Continuing a remarkable late-career surge, Belarus-born Israeli GM Boris Gelfand finished in a tie for first with young Italian GM Fabiano Caruana last week at the sixth and final FIDE Grand Prix tournament held in Paris. The two scored 7-4 in the all-grandmaster field, with Caruana taking home the trophy on the strength of having the better tiebreaks.
American star Hikaru Nakamura was just out of the money at 6½-4½. Based on the cumulative results of the six-tournament Grand Prix series, former world champ Veselin Topalov of Bulgaria and Azerbaijan's Shakhriyar Mamedyarov have earned automatic slots in the next world championship candidates cycle.
Long known as a solid player and dangerous opponent, the low-key Gelfand appears to have discovered an extra gear in his mid-40s. He won the 2011 candidates tournament in a major upset and came within an eyelash of upsetting champion Viswanathan Anand for the crown in their match in London. (How the chess world would have marketed the charisma-challenged Gelfand as their standard-bearer is one of those great "What if?" questions.)
Gelfand proved his title run was no fluke with a string of strong performances since then. Just this year he tied for first in April's Alekhine Memorial tournament with world No. 2 Levon Aronian of Armenia, and was alone in first in June's Tal Memorial, topping a field that included Caruana, Nakamura and Norway's Magnus Carlsen, who plays Anand for the world title next month in India. Throw in Paris and Gelfand has won or tied for first in three of the strongest events of the year.
Gelfand's win over Nakamura at the Grand Prix in Round 10, a game that killed the American's hopes, was typical of the Israeli's style — not a notably aggressive player, Gelfand is always well prepared, rarely beats himself and has become one of the best in the world in seizing an opportunity when his opponent slips up.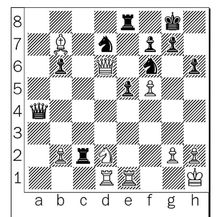 In a deeply researched Najdorf Sicilian line, the first new move of the game is Gelfand's 20…Rc6, and Black grabs a lasting initiative just one move later on 21. f4?! Rfc8!, when 22. fxe5? (both players later said White's best practical chance was 22. f5) is bad because of 22…dxe5 23. Be3 Rxc3! 24. bxc3? Qxa3+ 25. Kd2 (Kb1 Ba2+ 26. Ka1 Bb3+ 27. Kb1 Qa2+ 28. Kc1 g3! 29. Qe2 Qa1+ 30. Kd2 Qxc3+ 31. Kc1 Bxc2 and wins) Qxc3+ 26. Ke2 Bc4+.
Black gets in the classic Sicilian exchange sac along the c-file anyway on 22. Qg3?! Nd7 23. Bxg7 Kxg7 24. f5 Rxc3! 25. bxc3 Qxa3+, and White must walk a defensive tightrope just to survive. A couple of suboptimal moves by Nakamura allows the attack to break through.
When the position calls for attack, Gelfand knows what to do: 33. Bxe4? (Kc1 a5 34. Qd4 Rd8 35. Qc4 Bc6 limits Black's advantage) a5 34. Qxb7 Qf4+ 35. Ke2 Rc7 36. Qb6 Nxe4 (Black still is down the exchange, but his pieces are swarming around the White king) 37. Qd4+ Kh7 38. c4? (the final mistake — 38. Rgf1 Nxc3+ 39. Qxc3 Qxf1+ 40. Rxf2 Rxc3 41. Kd2 offered some survival chances, though Black is still better) Rd7!, when 39. Qxd7 Qf2+ 40. Kd3 Nc5+ 41. Kc3 Nxd7 42. Rgf1 Qxg2 is winning.
The finale: 39. Qe3 Ng3+ 40. Qxg3 Qxg3 41. Rxd7 Qe5+, and White resigned as on 42. Kd2 Qxf5, Black threatens both 43…Qxd7 and 43…Qf2+, picking off the rook on g1.
–
The short, remarkable career of Borislav Ivanov may have come to a close. The 25-year-old Bulgarian master earned his dubious fame with a string of brilliant, improbable wins over much higher rated players, including grandmasters, victories that led to widespread accusations — never proven — that he was getting illegal surreptitious "coaching" during his games from a hidden hook-up to a computer program.
Chessbase.com, citing Bulgarian news accounts, reports that Ivanov announced his "retirement" after forfeiting games at an open event last week rather than remove his shoes as part of a search demanded by organizers. U.S. GM Maxim Dlugy, who was to play Ivanov in the round in question, has an amusing write-up of the incident, and of the oddity of Ivanov's distracted at-the-board behavior, on the chess site.
The wide availability of superstrong computer programs, as Dlugy notes, has taken the fear of chess cheating to a whole new level in recent years, topped by the "Toiletgate" accusations that marred the world title match between Topalov and Russia's Vladimir Kramnik in 2006. But even before the advent of computers, there were famous incidents and clashes over rules even at the highest levels of the game.
One of the most famous came in the 1994 Linares Tournament in Spain between then-world champion Garry Kasparov and young Hungarian star Judit Polgar, playing in her first Linares tournament.
Polgar as White held her own in a Sicilian Scheveningen but the real fireworks came on 35. Qxd6 Rxc2 36. Nd2 (see diagram).