ANALYSIS/OPINION:
I have a theory. It runs counter to pretty much everything I believe in, as I'm not much for jinxes and curses and spells.
If there's a no-hitter going on, it really is OK to talk about the no-hitter. Opening an umbrella indoors may be foolish. It isn't going to cause you any bad luck. I've even broken a mirror, though that one may be true. It would explain a lot.
This particular theory I believe from the bottom of my heart. You will never convince me it isn't true. There's too much evidence.
I believe the Wizards are cursed.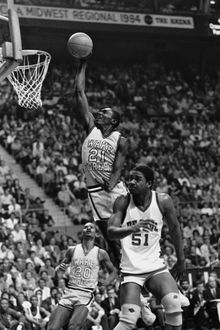 Call it the Curse of the Mailman. It covers the Bullets and Wizards after the name was changed in 1997.
In 1985, Washington had the 12th pick in the draft. A kid out of Louisiana Tech was drawing a lot of attention. His name was Karl Malone, soon to become Karl "the Mailman" Malone. He was seen as a perfect fit for the Bullets.
So their turn came and the Bullets stepped up — and drafted Kenny Green out of Wake Forest.
There's no truth to the rumor that three Utah Jazz executives injured themselves by tripping over each other in their haste to take Malone with the 13th pick.
Kenny Green played 60 games in the NBA. He averaged 4.4 points.
Karl Malone played 1,476 games. He averaged 25 points. The Mailman went into the Pro Basketball Hall of Fame in 2010. Green isn't even in Wake Forest's Athletic Hall of Fame.
The Mailman. He should have been a Bullet-Wizard. Wherever they decide basketball fortunes, the call was made: We gave you a chance and you took Kenny Green. Never again.
Too much has happened to think it isn't real.
Injuries?
Chris Webber was traded to Washington and was injured the same week. He had several instances of shoulder trouble. In 1991, the team took LaBradford Smith out of Louisville with the 19th pick. It was seen as a great get for that spot in the draft. Except Smith badly injured an ankle and never played a full season. He averaged only 6.7 points over an 183-game career. Two years after drafting Smith, the club lost Calbert Cheaney, Rex Chapman and Pervis Ellison for parts of the season.