The House's top investigator accused a prominent Washington law and lobbying firm of trying to meddle with Congress's investigation into transparency when one of the company's lobbyists pleaded that lawmakers not ask their client any questions at a hearing Tuesday.
Oversight committee Chairman Darrell Issa said he was considering referring the matter to the American Bar Association, saying it was an unacceptable attempt to interfere with Congress.
"This one crosses the line," said Mr. Issa, California Republican.
Mr. Issa released an email he said was from someone in the lobbying side of Dickstein Shapiro and was sent to a staffer for a member of Congress.
"If possible … do not direct questions to Jonathan Silver… He's a client of my firm," the employee said in the email, following that line with a smiley-face emoticon.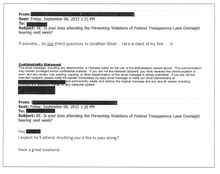 The name of the employee and the staffer were both redacted in the email Mr. Issa released.
Mr. Silver, the firm's client, ran the Energy Department office that was responsible for green-energy loan guarantees, including for the failed Solyndra project. He said at the hearing he wasn't aware of the email, and he said his lawyer from the firm wasn't aware either.
In response to questions from The Washington Times, the law firm was mum, saying only that it had determined Mr. Silver wasn't involved.
"We're looking into the circumstances surrounding the email," spokeswoman Michelle Rodgers said. "What we can confirm right now now is Mr. Silver had no knowledge of the communication."
The ranking Democrat on the oversight committee, Rep. Elijah E. Cummings, said if the email was what it appeared to be, "it would be very, very unfortunate."
"It would be clearly out of bounds. I hope it's not what it appears to be," he said.