In an abrupt about-face, Virginia Attorney General Kenneth T. Cuccinelli II announced Tuesday he's donating $18,000 to charity as reimbursement for gifts he received from a wealthy businessman — a gamble he hopes will put behind him a scandal that has weighed on his gubernatorial campaign.
For months, Democrats have dogged Mr. Cuccinelli on the issue, lumping him into a political morass that has ensnared Gov. Bob McDonnell and Virginia's first family in state and federal investigations.
Carl Tobias, a professor at the University of Richmond School of law, called the move a positive development but also an acknowledgment that the Republican's campaign is struggling to sustain momentum as the race heads into its stretch run. Democrat Terry McAuliffe leads Mr. Cuccinelli by 7.7 points in the latest RealClearPolitics average of recent poll results.
"I don't think it can hurt, but I'm not sure how much it will help," Mr. Tobias said. "He so vehemently rejected that idea when it was first raised and ever since, so why is he doing it now?"
Mr. Cuccinelli has repeatedly pointed to an independent investigation exonerating him of wrongdoing for accepting gifts from Jonnie R. Williams, CEO of the nutritional supplement company Star Scientific Inc. The attorney general, who initially failed to disclose $4,500 of the gifts as well as stock holdings in Mr. Williams' company, even recently dismissed the idea of being able to repay the cash equivalent of the gifts.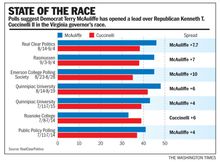 "There are some bells you can't unring," he said in July, referring to time he spent at Mr. Williams' vacation home and a Thanksgiving dinner he attended. In August, he explained that he and his family were simply not in a position to just write a check.
But on Tuesday, the married father of seven children said in a video address to supporters posted on YouTube that he made the decision to donate the money to a Richmond-based Christian charity because it was the "right thing to do, plain and simple."
"This is something that I would have liked to have done sooner, but like most Virginians, writing a check for more than $18,000 is not a simple matter for my family and me. It's taken a while to get our funds together," he said. "For those who've been disappointed in this situation or how I've handled it, I apologize. It's been a humbling set of lessons for me."
While the gesture could help Mr. Cuccinelli deflect further questions about the scandal, the political risk is that he could also be perceived as having admitted wrongdoing.
"By the very act of giving it back, you almost say the money is tainted," said Shaun Kenney, a longtime conservative activist in the state.
Democrats have harped on Mr. Cuccinelli, buying ads on a roadside billboard and creating a mocking website, since Mr. McDonnell announced last month that he and his family were returning all "tangible" gifts from Mr. Williams. The gifts to the governor included $15,000 for catering at one daughter's wedding, a $10,000 engagement present for another, and an engraved $6,500 Rolex watch first lady Maureen McDonnell said Mr. Williams bought for her to give to her husband.
Mr. McDonnell has also repaid more than $120,000 in loans Mr. Williams gave to Mrs. McDonnell and a real estate corporation owned by the governor and his sister. Prosecutors currently are weighing whether to bring criminal charges related to any possible quid pro quo.
Mr. McDonnell maintains he did nothing wrong and an independent report shows that Mr. Williams received no special treatment as a result of his relationship with the governor.
But the developments have largely sidelined Mr. McDonnell during the high-profile campaign and hampered the GOP's ability to raise ethical issues against Mr. McAuliffe, a self-proclaimed "hustler" perhaps best known as the wheeling and dealing chief moneyman for President Clinton.
Republicans have tried to exploit the Democrat's ties to an electric car company he founded that is currently under federal investigation, though Mr. McAuliffe says he has not contacted by authorities and is not a subject of the probe.