The women's world champion and the man who could be the next men's champ are both in action this week as the summer season of open tournaments gives way to a string of elite events.
In what will be his last major tune-up before his title match with reigning champion Viswanathan Anand of India in Chennai in November, Norwegian GM Magnus Carlsen is competing in the 2013 Sinquefield Cup double-round robin invitational being played at the Chess Club and Scholastic Center of St. Louis. The field also includes world No. 2 Levon Aronian of Armenia and the two top American players, GMs Hikaru Nakamura and Gata Kamsky.
It will be one of the strongest events in decades on U.S. soil, with the winner in line to receive $70,000.
The tournament runs through Sept. 16. You can follow the play at http://www.uschesschamps.com/live and we'll have all the color and action from the event in upcoming columns.
On the other side of the globe, Ukrainian WGM Anna Ushenina is putting her women's title belt on the line against former champion Hou Yifan of China in the Chinese city of Taizhou. Hou, who held the title from 2010 to 2012, probably rates as a slight favorite against Ushenina, a surprise winner of the 2012 FIDE knockout tournament to claim the crown. The 12-game match begins Tuesday and runs through Sept. 28.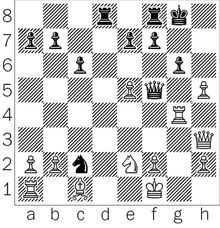 And world events have intruded on yet another big event planned this week: Turkish organizers at the last minute have moved the 2013 World Junior Championship from its planned location in the eastern city of Hatay to Kocaeli, a city in the country's northwest about 60 miles from Istanbul. Hatay is located just 18 miles from Turkey's border with Syria and several international federations balked at sending their teams to a site so close to a raging civil war.
–
Sometimes one well-played game can make up for an entire lousy tournament. Bulgarian GM Ivan Cheparinov finished dead last in the just-concluded 14th Karpov Poikovsky Tournament in the Russian city of Poikovsky, won by Ukrainian GM Pavel Eljanov, but Cheparinov's wild last-round win over Israeli GM Emil Sutovsky — his only full point of the event — dominated the post-tournament coverage. The game featured one of the more remarkable king walks in an elite-level game in years, with Cheparinov's king eluding a pack of pursuers to help deliver the final mate.
With nothing on the line, the Bulgarian GM goes in for some caveman chess in this sharp Grunfeld line with 14. Rg1!? Nd7 15. e5 Nb4 16. g4!!?, ignoring the threatened fork to pursue his kingside attack. After 16…Nc2+ 17. Kf1 Nxe5! (Nxa1?! is dubious in light of lines such as 18. gxh5 Qc8 19. hxg6 fxg6 20. Ng5 Nf6 21. Ne6 Rf7 22. Rxg6 Ne8 23. Bh6 Nc2 24. Bxg7 Nxg7 25. Rh6 and wins) 18. Nxe5 (dxe5?! Qd1+ 19. Kg2 Qxe2 20. gxh5 Nxa1 21. h6 Bxe5 22. Re1 Qc4 23. b3 Qc5 24. Nxe5 Nc2 and Black holds) Bxe5 19. gxh5 Qc8! 20. Rg4 (a queen trade would snuff out White's attacking hopes) Qf5 21. dxe5 Rad8 (see diagram), Black, despite being a piece down, has real compensation in the shaky position of the White king.
After 22. hxg6, Fritz gives the remarkable drawing line 22…fxg6 (threatening instant mate on f2) 23. Nf4 Rd1+ 24. Ke2 Re1+ 25. Kd2 Rd8+ 26. Kc3 Nxa1 27. Rxg6+ Qxg6 28. Nxg6 Rxc1+ 29. Kb4 Rd4+ 30. Ka3 Nc2+ 31. Kb3 Na1+ 32. Ka3 — just one indication of the richness of the position. Sutovsky can hardly be blamed for his 22…Rd1+ 23. Kg2 Ne1+ 24. Kg3 (Kg1?? Nd3+ 25. Kg2 Qxf2 mate) Qf3+ 25. Kh4 Qxf2+ Kg5, as it seems White's king can hardly survive the forced trek right into the Black camp.
But on 26…f6+ (Nf3+ 27. Kh6 Qxh2 28. Qxh2 Nxh2 29. gxf7+ Kxf7 30. Rxg7+ Ke8 31. Rxe7+! Kxe7 32. Bg5+ and wins) 27. Kh6!, the White king amazingly has found shelter in the storm, and it's Black's king that now faces mortal peril.
The end comes on 29. Kg5! (stepping aside to revive the mate threat, while Black still has no useful checks) Rf7 30. gxf7+ Kxf7 31. Qxf5+ Ke8 32. Bf4! Rxa1 33. e6, and Sutovsky resigned as he has no good answer to the threat of 34. Qf7+ Kd8 35. Qf8 mate.
–
Germany once again ruled the roost at the 24th NATO Chess Championships, held last month in Warsaw. The U.S. squad finished in a very creditable tie for fourth in the team event, with retired Master Sgt. Dan Ranario the highest-scoring American entrant.
Master Alexander Rosenkilde of Denmark, which finished second in the team competition, showed true martial spirit in his fierce attacking win over France's Francois Mottais. In a Chigorin Defense, Black's king is caught in a box when White establishes a choking pawn on f6, leading to a nice sacrificial conclusion.