The two teenage boys, 16, charged with beating to death Delbert "Shorty" Belton, 88, as he crossed a parking lot at a Washington club entered not guilty pleas on Friday.
The judge set the trial for Demetrius Glenn and Kenan Adams-Kinard for November, The Associated Press reported.
The teens are being tried as adults in the killing of the World War II veteran outside an Eagles Lodge in Spokane in August. Police said they beat the man to death as he tried to hide in his car, using flashlights and fists and leaving him for dead.
One of the teens later tried to explain the violence stemming from their planned crack cocaine purchase from Mr. Belton. Police, however, said they've found no evidence of Mr. Belton serving as a drug dealer, and his family has stated to the press that such claims are ridiculous.
The suspects have been charged with first-degree murder, first degree robbery and conspiracy to commit first-degree robbery. Demetrius – who turned himself in to police – was given a $2 million bond and will head to trial on Nov. 9, AP reported. Kenan, meanwhile, who is believed to have dodged police after the incident, was given a $3 million bail and a trial date of Nov. 4.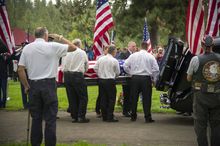 The crime sparked national outrage for its seeming randomness — and also because the suspects are black, the victim, white, and many wondered why noted civil rights activists like Al Sharpton and Jesse Jackson didn't condemn the incident with the same level of furor they did in the George Zimmerman-Trayvon Martin case.