Twelve people and the gunman were killed in the shooting rampage. D.C. Mayor Vincent C. Gray said victims ranged in age from 46 to 73.
Officials had notified the families of seven of the deceased and were working on notifying the remainder. At least one of those killed was a D.C. resident, Mr. Gray said.
The victims are Michael Arnold, 59, Sylvia Frasier, 53, Kathy Gaarde, 62, John Roger Johnson, 73, Frank Kohler, 50, Kenneth Bernard Proctor, 46, and Vishnu Pandit, 61.
D.C. Police Chief Cathy L. Lanier said at least one identified victim was a District resident.
Officials also clarified that of eight additional people who were injured during the incident, three were shot. Others suffered injuries that ranged from contusions from falling to stress reactions.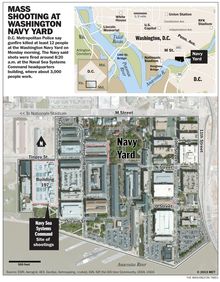 One of those shot was MPD Officer Scott Williams, who worked on the K-9 team.
Chief Lanier said none of the people injured or killed were on active military duty.