ANALYSIS/OPINION:
The game started out with such promise for the Redskins.
On the first play from scrimmage, linebacker London Fletcher flew into the Lions' backfield and sacked Matthew Stafford for a 7-yard loss. Fletcher jumped up and did a happy dance, much to the delight of those who came to FedEx Field on a brilliant afternoon.
---
SEE ALSO: Redskins slip to 0-3 as key calls don't go their way
---
Not long after that, cornerback DeAngelo Hall intercepted Stafford and returned it for a touchdown.
Roughly three hours later, no one who cared about the Redskins was doing any kind of happy dance. Or happy anything. The Lions left town with a 27-20 victory, leaving the Redskins with a well-earned 0-3 record.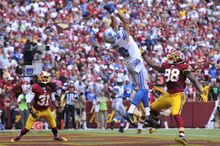 The numbers on the stat sheet practically glared. A week after allowing Green Bay's Aaron Rodgers to pass for a career-high 480 yards, the Redskins let Stafford throw for 385. That's not a career high for the Lions' 25-year-old, though it does rank well up toward the top.
In three games, Washington has given up 1,464 total yards and 1,068 passing yards. Ouch. The defense is far from the Redskins' only problem, but fixing it probably belongs atop the to-do list.
"No sense in feeling sorry for yourself," said defensive end Kedric Golston. "You go to work. You get it done. That's the bottom line."
Easy to say, of course. Tougher to do, as the Redskins are proving every week. This is not a new problem. The Eagles' Michael Vick didn't put up "wow" passing numbers in the opener because Philadelphia managed to run for 240 yards. It's only the past two games where opponents have passed the Redskins silly.
"If we gave up the same yards and won the football game, no one would have said anything," Golston said. "What are statistics except numbers? The only statistic that matters is the win-loss column."
Fair point, as statistics can often be misleading. But not always. When Detroit needed to pick up huge chunks Sunday, it was pretty much able to do so every time. These were pretty honest stats.
Case in point: After the Redskins had a fourth-quarter touchdown overturned when it was ruled (correctly) on replay that Aldrick Robinson did not corral a 57-yard pass from Robert Griffin III, Detroit pushed Washington backwards for two plays. Then, after getting the ball back, the Lions went 16 yards in the air on their first play and 33 on their third. Just like that, they were on Washington's 21 and Stafford eventually found Calvin Johnson for an 11-yard touchdown.
Oakland's Terrelle Pryor is the next quarterback who gets to test the Washington defense, next Sunday on the west coast. He'll probably start with the visions of huge numbers as soon as the Raiders' game in Denver ends Monday night.
Johnson, perhaps the best receiver in football, went over the 500-catch and 8,000-yard marks for his career early in Sunday's game. He was honest enough to admit he knew going in there was a chance for some hefty numbers.
"You're aware of the [yards after catch] they're giving up and all the yards they've given up the first two weeks of the season," Johnson said. "We'd knew we'd have opportunities, especially with the single-high."