U.S. law enforcement authorities are investigating claims, first made via Twitter over the weekend by the al-Shabab terrorist network and now by the Kenyan government, that three Somali-Americans are among the gunmen who committed the mall massacre in Kenya.
A source familiar with the investigation told The Washington Times on Monday that the FBI has sent an envoy from its New York field office to Kenya to pursue the identities of the men cited by al-Shabab — a Somalia-based al Qaeda affiliate known to have drawn recruits during recent years from the large Somali-American community in the Minneapolis-St. Paul area.
While leaders of that community cried out Monday with condemnations of the Kenya attack, the suspected U.S. connection ratcheted up concerns among some U.S. law enforcement and national security officials about the potential that al-Shabab might pursue similar attacks in America against "soft" undefended targets such as shopping malls, theaters, concerts and sporting events.
"The fear is that if a couple young men returned to the United States with training to conduct military attacks on U.S. citizens, you could take the template of this mall attack that's happening right now in Kenya and apply it to the U.S.," said Anders Folk, the former assistant U.S. attorney for the District of Minnesota, who played a key role in the district's prosecution of several al-Shabab-related cases from 2008 to 2010.
While this would be a worst-case scenario, "the reality at this point is that up to 60 people have been identified by the U.S. government as having traveled over to fight on behalf of al-Shabab. If we're 90 percent effective in making those identifications, that still leaves a couple of people out there we don't know about," said Mr. Folk, now a private lawyer in Minneapolis.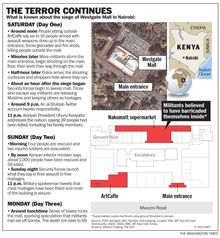 Rep. Michael T. McCaul, Texas Republican and chairman of the House Committee on Homeland Security, told CNN on Monday that intelligence and law enforcement officials have been trying for years to track the dozens of Somali-Americans who have signed up with al-Shabab with an eye to their possible return to the U.S.
"There possibly could be Americans over there that we don't know about, and that's one of my biggest concerns," he said, adding that while al-Shabab's focus "has been more regional," aimed at Somalia and Kenya, "the idea that they can come back into the United States is a real valid concern."
Somali-American condemnation
Kenyan military forces were engaged in a major push Monday night to route al-Shabab's machine-gun-armed operatives from the Westgate shopping mall in Nairobi, where officials estimate that at least 62 people have been killed and more than 200 injured.
Members of the some 70,000-strong Somali-American community in Minnesota condemned the attack Monday while waiting anxiously to see whether any Somali-Americans were, in fact, involved in the violence.
Community and religious leaders called a news conference at a Minneapolis mosque to "condemn the heinous act of senseless violence," according to The Associated Press, which reported that the group also said they wanted "to stand in solidarity with the victims and their families and to point out the menace of extremism."
Some from the community have relatives who were injured in the attack.
"I'm sad and frustrated and angry. I'm angry at the ones that decided to attack innocent people there," said Hodan Hassan, whose nieces — Fardosa Abdi, 17, and Dheman Abdi, 16 — were shopping at the mall in Nairobi when the siege started. According to the AP report, Mrs. Hassan said Fardosa was in critical condition Monday after undergoing two surgeries for severe leg injuries, while Dheman had a bullet break her leg and an explosion injured her arm.
"It's people who don't care, with no hearts," Mrs. Hassan said of the terrorists.
Fears in recent years that al-Shabab could pursue such an attack in America have been downplayed by U.S. intelligence and law enforcement sources, who have long described the network as having the least interest among the al Qaeda affiliates of conducting attacks outside its own country.