ANALYSIS/OPINION:
Back in December, Davey Johnson's bold words seemed to pull together the unabashed optimism surrounding the Nationals:
World Series or bust.
---
SEE ALSO: Counting the ways the Nationals' year went off the rails
---
Now the guarantee is nothing more than a cruel punchline.
The quest to return to the postseason ended Monday in St. Louis when the Nationals ended their final tease of contention and were eliminated.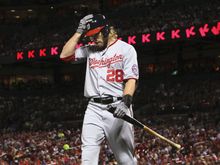 The belated sense of urgency and purpose in recent weeks provided a glimpse into what the season could have been. Instead, four months of error-ridden, uninspired baseball ended the Nationals' hopes to capture the National League East again before the pennant race even started.
The busted season is a warning to the organization that acted as if last season's 98 wins and division title were the first of many such postseason runs. That, somehow, landing one strike away from advancing to the National League Championship Series in 2012 meant those October opportunities will always be there in Washington.
The emptiness of 2013 proved otherwise.
In reality, these opportunities are as fragile as they are fleeting. Even moreso for an organization with one lonely pennant hanging at Nationals Park.
Point to key injuries. The 25-man roster's constant churn. Clubhouse dramatics. An erratic bullpen. The offense's perpetual search to discover a productive mix, always insisting a corner had been turned. The flop of the universally lauded offseason proving, yet again, that no pennants are awarded for December transactions. There are always excuses. There are always obstacles. The Nationals aren't alone. Every team has them.
But the barely-.500 truth is the Nationals weren't as good as we — or they — thought.
No amount of faux drama — from racing presidents or hyper-optimistic September emails seeking deposits for postseason tickets to in-game gimmicks — could obscure that uncomfortable fact.
The 70-year-old Johnson built his final season as manager around the roster general manager Mike Rizzo assembled to make a deep postseason run. Every major projection system backed up his lofty words. He's as engaging and good-natured of man as you'll find in baseball. But the season got the better of Johnson — though he insisted otherwise — as the manager often appeared ground down and, more disturbing, without answers as the year disintegrated.
A distinct lack of confidence radiated through the manager's words, from an unworried approach to the early struggles to baffled, public attempts to find a workable lineup to strange, contradictory explanations over everything from players sitting out a few days to the particulars of Drew Storen's struggles on the mound. The words became tougher to shrug off as simply Davey being Davey.
The problems went deeper. Two showcase offseason acquisitions, Dan Haren and Rafael Soriano, combined to make $20 million this season, but delivered just 0.4 wins above replacement value. Toss those two in with key arms Ross Detwiler, Ryan Mattheus and Storen and they delivered minus-0.9 WAR. By comparison, Tanner Roark has rolled up 1.6 WAR since his August callup.