Both candidates had minor stumbles on issues they have struggled with in the past. Mr. McAuliffe was unable to put a price tag on his plans to expand government, and Mr. Cuccinelli could not identify any loopholes he would eliminate to pay for a $1.4 billion tax cut he proposes.
And, of course, both sides were quick to claim victory.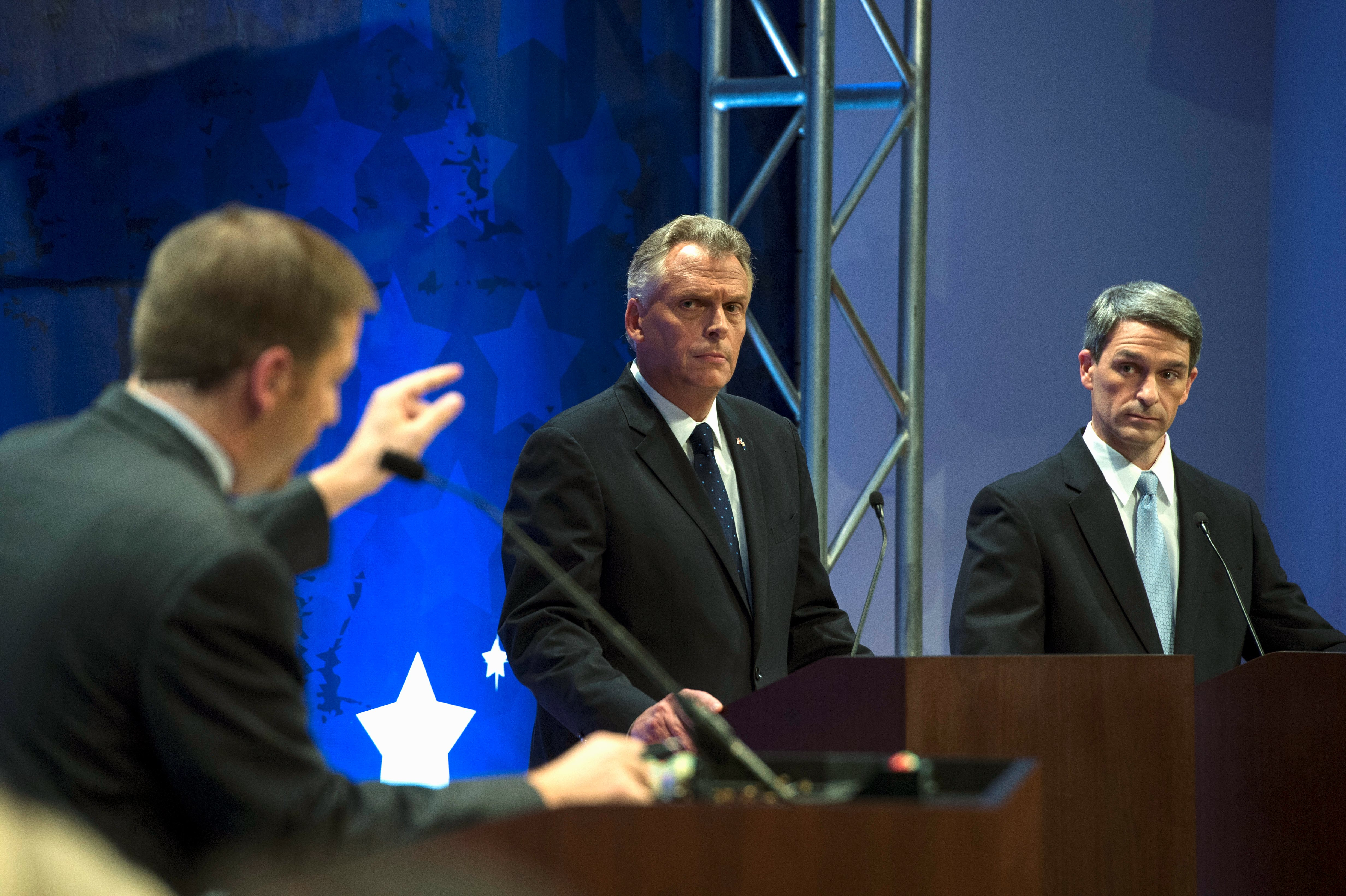 "I think I laid out my case that I'd work in a bipartisan, mainstream way," Mr. McAuliffe said afterward. "I talked about the different Republicans who are supporting my candidacy, … I laid out my case why I should be elected governor, working in a bipartisan, mainstream way, and my opponent could not answer the question of how he would pay for his tax cut, why he wouldn't support the re-authorization of the Violence Against Women Act. So there was a real distinction tonight."
Asked how he would pay for his proposals, Mr. McAuliffe said he would find savings in state government. He also supports expanding Medicaid as part of President Obama's health care overhaul — a move he said would save the state $500 million.
"If we don't get the Medicaid expansion, then I'm not going to commit a dollar amount that at the end of the day, we may not have any money for," he said, likening Mr. Cuccinelli's tax proposal to a "fairy tale."
"It's like I came here on a unicorn tonight," he said.
Though Mr. Cuccinelli didn't identify specific exemptions, he did say that "if we don't get the cuts, we don't get to do the taxes."
"We're going to have to sit down and do an analysis of each one to figure out which ones are working better than the others, and working means providing economic benefits beyond just whoever gets the tax credit or the exemption — that's the standard of measure," he said afterward. "That's something that you don't get without bipartisan support, and so it only makes sense to go through that analysis on a bipartisan basis."
Mr. Cuccinelli has recently adopted a general theme that even if voters don't agree with him on every issue, they'll always know where he stands as the GOP has tried to seize on Mr. McAuliffe's shifting positions on issues like energy, immigration and health care.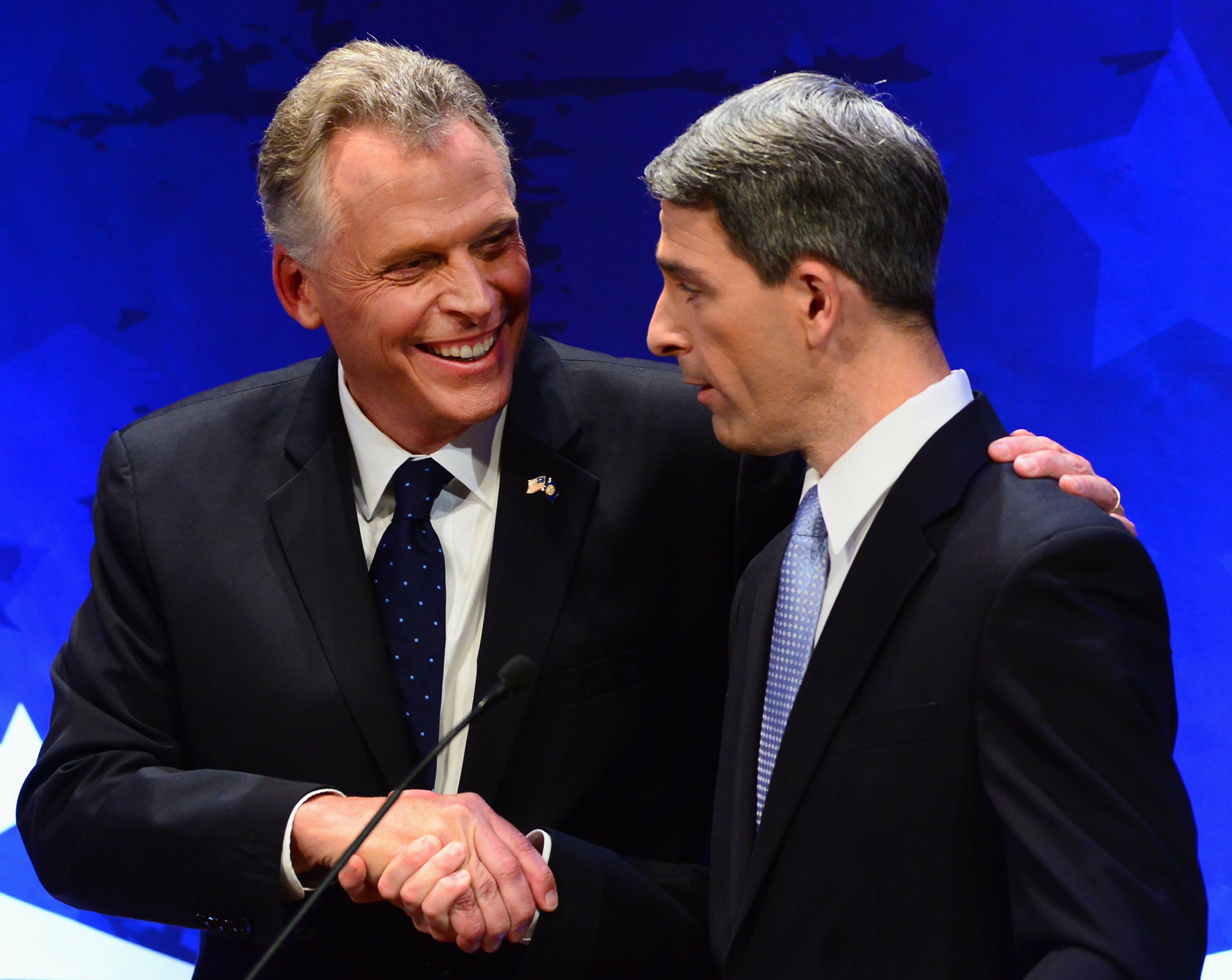 His campaign has persistently sought to gain traction by highlighting the failures of GreenTech Automotive Inc., a company that was supposed to serve as proof of Mr. McAuliffe's business acumen but which has not lived up to projected production or employment levels.
The company has also drawn scrutiny from the federal government over its use of a federal program that offers visas to wealthy foreign investors, and a government watchdog group released a report this week that revealed the company was using Mr. McAuliffe's name as late as March, even though he announced in April that he had stepped down in December.
But polls have shown that the issue has not resonated with voters, and the car company rarely came up in Wednesday's debate. Mr. Cuccinelli referenced it in his closing remarks by saying Mr. McAuliffe had "sold more visas to Chinese citizens than his failed company has sold cars."
Surveys show more voters are familiar with Mr. Cuccinelli's own issues with gifts from Jonnie R. Williams Sr., CEO of a health care supplement company. Mr. Cuccinelli recently wrote an $18,000 check to a Richmond charity to pay for things like a plane ride, a visit to a vacation home visit and a turkey dinner.