ANALYSIS/OPINION:
OAKLAND, Calif. — Each step toward Oakland-Alameda County Coliseum feels like approaching a prison of stained concrete and rusted chain-link fences.
The stadium is a dump.
---
SEE ALSO: Redskins get first win as Roy Helu Jr. comes through in relief
---
The upper deck is tarped off, marijuana smoke wafts into the press box and plumbing oozes raw sewage during Athletics games — all of which proved to be a fitting home for Sunday's slow-motion wreck between the Redskins and Raiders.
Sure, the Redskins emerged with the 24-14 victory. Ended the three-game slide to open the season. Kept the disastrous start from becoming an all-out dumpster fire heading into the bye week.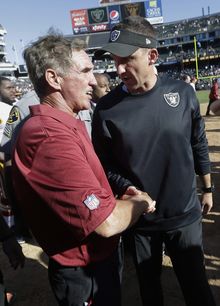 Other than the scoreboard, though, the Redskins didn't provide reason for optimism about this team in 60 mistaken-ridden minutes.
The story of self-inflicted problems is familiar — the story, really, of this unraveled season that this game did nothing to end.
Nothing that unfolded on the dirt infield between the desperate pounding of "Back in Black" showed the unprepared, unfocused group is ready to become the playoff contender so many predicted.
They weren't being shredded by the Packers' pass-happy juggernaut. Or the warp-speed offense Chip Kelly installed with the Eagles. Or the Lions' dynamic combination of quarterback Matthew Stafford and superhero-cum-wide receiver Calvin Johnson.
Instead, they got the sad-sack Raiders and the easiest win left on the schedule.
No Super Bowl predictions. No storied stadium. Nothing other than a franchise desperate to reclaim distant glory but forced, instead, to trot out 72-year-old Ann-Margret during pregame ceremonies and start limp-armed journeyman quarterback Matt Flynn.
Young, run-happy quarterback Terrelle Pryor watched in street clothes on the sideline after sustaining a concussion last week. Running back Darren McFadden and fullback Marcel Reece quickly joined him thanks to game-ending injuries.
But the Redskins struggled to stay out of their own way against this bedraggled, battered group and, once again, called into question this team's ability to contend this season. The same undisciplined mistakes that came in the season's first three weeks continued in a bumbling game that, at times, neither team looked as if they wanted to win.
The Redskins fell behind 14-0 in the first quarter, including a blocked punt recovered in the end zone after Perry Riley missed his block after a stunt by the Raiders. That was the lowlight of repeated miscues and flirtations with disaster on special teams, an area more trouble-ridden than the Redskins' abused secondary.
Robert Griffin III, coming off three straight games of passing for over 300 yards, one-hopped an early pass and air-mailed others.