When history meets the passion of politics, history sometimes suffers.
During an impassioned floor debate this year, Sen. John McCain, Arizona Republican, was pounding his desk for emphasis — one in a long line of senators to take liberties with the chamber's historic furniture for the sake of an argument.
Now, with lawmakers wrapping up a five-week summer recess, it's time for the historians and curators who manage the Senate and its desks — what they call a "working museum" — to take stock of a year's worth of poundings, spills and wear and tear, and make sure the senators' workspaces can stand up to impassioned debates for years to come.
---
PHOTOS: After senators make their marks, restorers take desk jobs for history
---
"When Sen. McCain was pounding on the desks, that all affects the stability," Diane Skvarla, the Senate curator, said in an interview. "We're trying to be sure they stay in good working order."
Every desk has been examined for damage, scratches, structural issues and cracks in knobs or feet. Of the 100 desks, about a third needed some maintenance, the curator said — mostly to fix scratches on the surface or broken wood.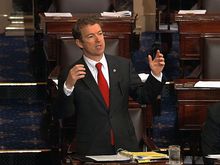 The goal of the restoration was not to make the desks look as good as possible by refinishing them, but rather to fix the desk parts — not replace them — to keep the historical integrity intact.
---
SEE ALSO: Obama's foot on Oval Office desk sends shockwaves around the world
---
'Working museum'
There were scratches on some desks' lower shelves that the office did not have time to fix this summer. They may be fixed in the future, but Ms. Skvarla pointed out that because the historic desks are used as daily workspaces, they will never be perfect.
"The members use them; there's nothing we can do," she said. "Most people like to think of them as a working museum. Every time they're used, they get more history."
Scot Schraufnagel, an associate professor at Northern Illinois University and author of the "Historical Dictionary of the U.S. Congress," said keeping the desks intact could be a way to remind senators that the chamber has come through partisan times before.
"The problems we have with civility and the legislative process right now, members of Congress are more willing to act spitefully than cooperate. That sense of history, I think, helps to mellow some of the partisan rancor," he said. "When guys realize they're sitting at the desk of an important American historical figure, that can serve to attenuate emotions and calm people down a little bit, maybe."
Among those major figures were Daniel Webster, Henry Clay and John C. Calhoun — and in more recent times, three Kennedy brothers, Lyndon B. Johnson and Barack Obama.
Forty-eight of the Senate mahogany desks date back to 1819, built by New York cabinetmaker Thomas Constantine and purchased for $34 each — expensive for the time, Mr. Schraufnagel said. All of these historical desks are still in use today, as well as more recent additions such as those for the senators from Hawaii and Alaska in 1959.
Beginning in 1900, senators started signing or inscribing their names in their desk drawers when they left office, but the curators have tried to go back and establish who used the desks before that.
Some desks are considered such historical treasures that the Senate has passed legislation officially assigning them: the "Webster desk" always goes to the senior senator from New Hampshire, while the "Clay desk" goes to the senior senator from Kentucky. The desk used by Jefferson Davis, who would become president of the Confederate States of America, is assigned to the senior senator from Mississippi.