President Obama has won backing for his use of military force in Syria from two GOP members of key House committees — including one who is running for a U.S. Senate seat in Arkansas next year.
Rep. Mike Pompeo of Kansas, a member of the House Intelligence Committee, and Rep. Tom Cotton of Arkansas, who sits on the House Foreign Affairs Committee, penned a joint op-ed in The Washington Post supporting "a well-crafted use-of-force resolution against Syria" and urging the president to take "decisive, effective military action."
Mr. Pompeo and Mr. Cotton, both military veterans, point out that they've challenged "nearly all of the president's efforts to expand government" and charge that if Mr. Obama had acted sooner on Syria, al-Qaeda might not have "infested" the moderate rebel army battling the regime of President Bashar Assad.
"We understand why many of our GOP colleagues are undecided about a use-of-force resolution," they write. "Indeed, we have reservations about the president's implied course of military action. Yet Congress has its own constitutional duty to defend U.S. interests, and those interests shouldn't be neglected simply because we have doubts about Obama."
The Senate Foreign Relations Committee is scheduled to vote on a resolution Wednesday that would limit engagement in Syria to 90 days and curtail the use of U.S. "boots on the ground" — a major point of contention during a committee hearing Tuesday. The House Foreign Affairs Committee is also scheduled to hold its first hearing on Syria Wednesday.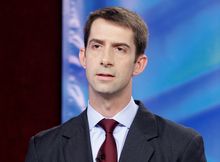 Mr. Pompeo and Mr. Cotton largely reiterate arguments made by Mr. Obama's administration: U.S. credibility is at stake, and inaction could embolden enemies like Iran, they write.
"One can vote for a use-of-force resolution yet preserve the right — indeed, the duty — to critique how the president employs such force," they write. "After all, we have one commander in chief at a time, and the United States is weakened if our presidency is weakened. No matter the president's party or his past failures, all Americans should want, and help, him to succeed when it comes to our national security."
Mr. Cotton is seeking to unseat U.S. Sen. Mark Pryor, Arkansas Democrat, next year in what is thought to be one of the GOP's best chances to oust an incumbent Democratic senator and move a step closer to regaining control of Congress's Upper Chamber.