ANALYSIS/OPINION:
My earliest memory of the Redskins is not a good one. I was 9 years old and trying to go to sleep. The radio in the next room crackled with a news bulletin. That's how we used to get our news. The Redskins, we were informed, had fired coach Bill McPeak.
This was 1965 when the team decided McPeak's career mark of 21-46-3 didn't merit another season. It made me cry, because I thought that meant there wouldn't be any more Redskins.
"No," my dad explained, "it just means they finally figured out they still aren't any good."
There's been a lot of that with the Redskins, whose history can be summed up simply: A lot of mediocrity with one pretty good stretch and one really good stretch. Those two stretches were a long time ago. A generation has grown up without being able to remember when the Skins were one of the NFL's dominant teams nearly every year.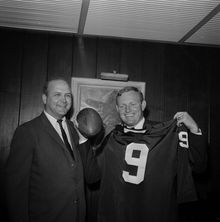 Are the Redskins moving in that direction again? Are they developing the staying power to be a Super Bowl contender every year for a decent stretch?
Could be, and anyone who thinks this town is Redskins-crazy now ought to see what it's like when the Skins are consistently good. Nuts doesn't begin to describe it.
Let's start by defining staying power as maintaining a status as a legitimate championship contender. Lots of teams get to good. Few get to very good.
The Skins were good in the 1970s when George Allen was in charge. He had an impressive 67-30-1 record. He made the playoffs five times and the Super Bowl once (losing to Miami). But that Super Bowl season was the only one when he won a playoff game. His overall playoff mark was 2-5.
We bow down to the greatness of Joe Gibbs, in his first stint as coach, for leading the Skins to their only real stretch of sustained staying power. His overall mark from 1981-92 was 124-60, not as high a winning percentage as Allen. But check out that playoff mark — Gibbs was 16-5. Washington made four Super Bowls under Gibbs and won three of them. His teams made it to the playoffs eight times and went only one-and-done once. Every year, Washington was mentioned as a Super Bowl contender.
Since Gibbs retired, the team has made the playoffs only four times, and two of those came when he made a four-year return to the sidelines. Washington has won exactly two playoff games since the Gibbs I era ended.
Today, the New England Patriots are the Gibbs-like scion of staying power. Yes, the Baltimore Ravens have the longest active playoff streak at five seasons. But New England has been consistently excellent for more than a decade. The only time New England hasn't made the playoffs since 2003 came in the 2008 season when it won 11 games. The Patriots have been to five Super Bowls since 2001. They've won three.
What other teams belong on the list? The Ravens do, and maybe the Packers because they have the game's best quarterback (for now) in Aaron Rodgers. The 49ers may be moving in that direction, along with the Seahawks.
The Redskins?
It's premature to say so definitively but not premature to think, yeah, maybe.