In just two seasons, outside linebacker Ryan Kerrigan has become entrenched as a mainstay of the Redskins. He's started every game. He's amassed 16 sacks, intercepted two passes, scored two touchdowns. It took him about no time to become a vital cog. He had an interception for a touchdown in his debut.
What made him so good so quickly?
"Have you seen him?" backup outside linebacker Darryl Tapp said, casting a glance in Kerrigan's direction. "The man is like 6-4, 260. He can run with the running backs, he can tail off and cover wide receivers. He can rush the passer. There's not too many things he can't do. He keeps working. He never comes to work thinking he knows it all. He's a special player."
Many things go into building staying power. One of them is not whiffing on draft picks, on finding the special player in any slot.
The Redskins maneuvered themselves into position to pick Kerrigan at No. 16 in the 2011 draft. That's a spot where you can still get a standout, though it isn't as easy as when you pick higher. Making the right pick in the middle portion of the first round is crucial.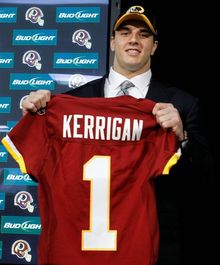 Washington got Brian Orakpo, Kerrigan's bookend, with the 13th pick in 2009. Two years later, it scored again with Kerrigan.
A defensive end at Purdue, Kerrigan was a unanimous All-American and the Big Ten defensive player of the year as a senior. The Redskins thought he could easily slide into an outside linebacker spot in their 3-4 scheme, and they've been proven correct.
"He's probably way ahead of the curve," said Bob Slowik, the Redskins' linebackers coach. "He just keeps getting better. I think he'll make an even bigger jump this year than he did as a rookie."
Kerrigan grew up in Muncie, Ind. He followed the Colts and quarterback Peyton Manning and saw firsthand what a successful NFL franchise did for the entire region.
"Colts fans just popped up by the thousands in Indiana as Peyton Manning did his thing in Indianapolis," Kerrigan said.
One of his goals, he said, is to do the same thing in D.C.
"When I was drafted here, I took it upon myself to be someone to help turn the franchise around," Kerrigan said. "[The team] has done a good job of bringing in the right personnel, not just players but coaches and support people, to help lay the foundation for a successful franchise for years to come. I hope I can continue to be a part of that. I'd certainly like to think I'm someone who is going to be with this franchise for a long time. I love it here. I love the fans. I love the vibe associated with the Redskins. I hope I'm one of the pieces that stays here a long time."
The Redskins have no objection to that. Though he has a long way to go to catch teammate London Fletcher and his 240-game streak in terms of durability, Kerrigan has shown plenty of that in his brief career in addition to his considerable skills. He knows skill is only part of the equation. Good fortune has something to do with it, too.
"You also have to stay motivated," Kerrigan said. "You see some guys get a big contract, and maybe lose a little motivation once they get some money. You have to keep doing what got you to that point. I was motivated coming out of the draft. I knew I had to play outside linebacker and I accepted the challenge. I'm proud of the way I adapted to it, but there's still a long way to go, and that's what keeps me motivated."
Orakpo doesn't think his pass-rush partner will ever have any issues with motivation. Orakpo played in the Big 12 at Texas and acknowledges he didn't know much about Kerrigan when the team made its pick in 2011. Kerrigan made a quick and positive impression.