In a career that has taken him from Centreville High to Virginia Tech to a trio of NFL teams, Redskins center Will Montgomery has had a lot of teammates and coaches. All of them, he said, provided him with a chance to learn something.
A tip from former Redskins line coach Joe Bugel probably resonates the most.
"They're always looking to find the next-best thing, and Coach Bugel one time said you needed to do your job so good, so great that they didn't have a choice but to keep you," Montgomery said. "I took that to heart. I try to do things the right way with film study and preparation, and to play each game like they're trying to replace me.
"You just keep your nose down, try to do your job, try to get better all the time."
Montgomery is a bit like that piece you might find at a yard sale, some piece of silverware or jewelry. You buy it at a bargain and later discover it is a valuable item. One team's discards are indeed another's treasures. Finding gold among the castoffs is one key to staying power in the NFL. Like Virginia Tech did before them, the Redskins have discovered Montgomery is indeed gold.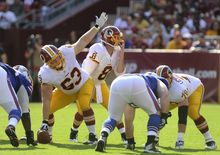 Tech didn't initially offer Montgomery a scholarship. He went as a recruited walk-on and became a mainstay on the line. He was a seventh-round pick of the Carolina Panthers (234th overall) in 2006. He played six games there and was released. The New York Jets signed him. He played seven games there and was released.
The Redskins signed him on Dec. 9, 2008. He has played 61 games for them, starting every one the past two seasons and becoming one of the team's most respected players in the process.
"I definitely love the way he plays, and I appreciate his work ethic," quarterback Robert Griffin III said. "He makes my job easier at the line of scrimmage, so I don't have to worry about too many things."
Said fullback Darrel Young, "Will's been a leader of this offense for a couple of years now. He's a great story. He came out of nowhere in college and now he could be a Pro Bowler. He makes this offense go. He knows stuff before it happens. I've said to him, 'Will, why did you do that?' and he says, 'You just know sometimes.' I can respect that and hopefully I can get to that level one day."
Montgomery is hardly small. He's 6-3 and 305 pounds. He's not going to break stopwatches with his speed. The things that stand out about him may not be noticeable with a quick look. What he does have is prodigious strength and an almost savant-like knowledge of the game. He studies it and retains everything.
"I guess everybody wants those guys who are 6-5, 320 and run like a deer," Montgomery said. "I think I've always just been pretty good at football, and I continue to improve my craft each year."
When Montgomery arrived at Tech, the coaching staff figured out pretty quickly that Montgomery was considerably better than they thought. He spent a few days working with the defensive line before moving over to offense "and the rest is history," Tech defensive line coach Charley Wiles said.
"He wasn't a wash over with us. Obvious natural strength. Amazing strength. Moved around well. But it was obvious he could be a starter on the other side of the ball. He's a guy who is probably a little more athletic than he gets credit for, a guy you really like once you get a chance to work with him."
Bryan Stinespring, the Hokies' offensive line coach, said Montgomery is "a great lesson in determination. He has those 'measurables' that you really can't measure. He's the smartest guy on the field. He's the toughest guy on the field. He's doing to do whatever he can to be successful.
"There's certain things about every individual you can't gauge on film. Desire? Drive? You get them on the field and it shows up. They start to separate themselves."