For months the Washington Redskins tried every approach possible to figure out the new-look Philadelphia Eagles.
They watched game tape of first-year coach Chip Kelly's offense at the University of Oregon. They tried to practice at a fast pace during training camp and in the week leading up to the season-opener at FedEx Field on Monday night.
And yet much of that work went up in smoke in a sloppy, disheartening 33-27 loss to the Eagles, who dictated the tempo at a lightning pace for the first 31 minutes of play and held on late for a closer-than-it-looked victory.
---
SEE ALSO: FENNO: RG3 returns to Redskins, but has a long way to go
---
Philadelphia ran 53 plays alone in the first half. It ran 19 plays to Washington's one through the game's first 5:53. The Eagles outgained the Redskins 146 yards to three during that initial burst.
A DeAngelo Hall 75-yard fumble return early in the first quarter short-circuited an initial Philadelphia drive that reached the 4-yard line. But it proved a false omen. The Eagles were just getting started.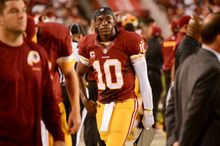 "We knew it was going to be a fast-paced offense," Washington linebacker London Fletcher said. "It just took us so long to get settled down. We were on the field so long in the first half, but defensively you've still got to settle down and try to help the offense out."
By the end of the first quarter they had kicked a field goal, wide receiver DeSean Jackson caught a 25-yard touchdown pass to start a monster game and Redskins running back Alfred Morris dropped a pitch from quarterback Robert Griffin III in his own end zone for a safety. It was 12-7 after an arduous 54-minute first quarter and felt far worse.
By halftime the Eagles had 21 first downs and 322 yards of total offense. Tight end Brent Celek caught a 28-yard touchdown pass from quarterback Michael Vick in the second quarter. Vick added a short touchdown run of his own with 1:02 left in the half to make it 26-7. In the third quarter Philadelphia needed just two plays for McCoy to make it 33-7 on a spirited 34-yard run.
"It wasn't one thing," said Hall, one of several defensive backs victimized on the touchdown pass to Jackson in the first quarter. "When you're wrong, you're wrong. That offense is definitely going to be force to be reckoned with in this league. We're going to have to go to the drawing board."
By night's end, McCoy had 184 rushing yards on 31 attempts. Jackson caught seven passes for 104 receiving yards. Vick, shaky early, finished 15-for-25 passing for 203 yards, two passing touchdowns and that rushing score.
Griffin never found a rhythm early in his first game action since tearing the anterior cruciate and lateral collateral ligaments in his right knee during a playoff loss to Seattle last Jan. 6. His eight-month rehab process went smoothly with no obvious setbacks.
The problem? Griffin wasn't ready to play in a preseason game and the rust showed with sloppy passes, rough footwork and limited help from his offensive line or receivers.
"I think everybody just took their turn messing the play up," center Will Montgomery said. "Whether it was the line, the backs, receivers. We've just got to clean it up."
Morris fumbled once and also botched that pitch in the end zone for the safety, though the fumble was charged to Griffin. Morris fumbled four times all of last season. Griffin, meanwhile, was intercepted five times total in 2012. On Monday the Eagles got him twice.
"It's part of the game. It's not Robert's fault," wide receiver Pierre Garcon said. "He's out there helping us, he's doing the best he can. We just got to make plays for him."