D.C. Council member Muriel Bowser's victory Tuesday in the District's Democratic mayoral primary caps a rise from relative obscurity seven years ago to front-runner status in the general election.
Ms. Bowser, who in 2007 emerged from a field of 19 candidates in a Ward 4 special election for the seat held by former Mayor Adrian M. Fenty, will now face her council colleague David A. Catania in November.
The entry into the race of Mr. Catania, at-large independent, means that unlike past general elections in a city where 75 percent of registered voters are Democrats a general election victory is not assured for Ms. Bowser. But after announcing her candidacy more than a year ago outside her childhood home in the North Michigan Park neighborhood in Northeast D.C., she proved herself an adept fundraiser and capable campaigner.
---
SEE ALSO: Scandal-weary D.C. voters send Mayor Gray packing
---
As recently as a month ago, she trailed Mayor Vincent C. Gray by double digits in polls. But when Mr. Gray's connection to the scandal that tainted his first term bled into the campaign, Ms. Bowser emerged from a crowded field that included assorted lawmakers and self-described "outsiders" to consolidate the anti-Gray sentiment despite concerns over her perceived lack of executive experience and a fairly undistinguished legislative record.
A former Advisory Neighborhood Commission member, Ms. Bowser is a fifth-generation Washingtonian. The 41-year-old, who is unmarried, was the youngest candidate in the field of eight Democrats. Prior to her election to the council, she worked for the Montgomery County government, helping to oversee revitalization and community relations in downtown Silver Spring.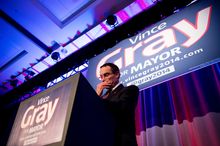 "I've been in local government for 17 years, on all sides — from the community side, from the legislative side and on the executive side," she said at a debate in defense of her record.
On the council and on the campaign trail, she embraced the progressive legacy of her political benefactor, Mr. Fenty, whose undoing had less to do with the achievements of his administration than the perception among some voters that he had become aloof, arrogant and disinterested in the job of being mayor.
Early on, Ms. Bowser introduced legislation to curb bullying in schools and later to expand free transportation options to students.
Northeast D.C. residents Charles Henderson and his wife Carrie Henderson said as they cast their ballots Tuesday at Coolidge Senior High School that her solid performance as their council member won them over early on.
"Whatever issue it is, she gets behind it. She doesn't hold back," said Mr. Henderson, a 67-year-old retiree.
The scandals surrounding the Gray administration had little impact on the couple's decision to her, said Mrs. Henderson, a 77-year-old retiree. Rather, Mrs. Henderson said she was pleased by the ease at which she was able to contact Ms. Bowser when she had problems to report in the neighborhood.
"Normally when you call her office, they get right on it," Mrs. Henderson said.
In July 2011, Ms. Bowser was assigned to lead the Committee on Government Operations in the midst of a series of federal investigations that would result in guilty pleas on corruption charges from three council members.
The assignment, which carried a far higher profile than the committee overseeing parks and recreation she had previously headed, put Ms. Bowser in a position to take point on crafting a government ethics reform bill. The legislation included the creation of a board to scrutinize ethics issues but didn't go far enough for some of her colleagues, who criticized it for failing to address campaign finance issues.
Ms. Bowser, who raised an impressive $1.3 million as of the March 24 campaign filing deadline, herself has taken criticism on the issue for accepting corporate and bundled contributions and for her ties to well-connected superlobbyist David W. Wilmot, a political rainmaker who has thrown fundraisers for Ms. Bowser in the past.
She has been popular with constituents, holding her council seat with 75 percent of the vote in the 2008 Democratic Party primary and 66 percent in the 2012 primary. She ran unopposed in both subsequent general elections.