A horrific crash on a California highway between a FedEx truck and a charter bus that was taking high-schoolers to a nearby college for a tour has left five students and five adults dead, CNN reported Friday.
The collision occurred Thursday evening by the town of Orland, 100 or so miles outside Sacramento, after a FedEx truck crossed over the freeway and smashed into the bus, various media reported.
California Highway Patrol dispatcher Curtis Pahika said another car, a Nissan Altima, was also caught up in the crash, USA Today reported.
---
PHOTOS: Truck in deadly crash slammed into charter bus
---
Lt. Bill Carpenter with the highway patrol confirmed to CNN that five students, three chaperones and both the truck and bus drivers were killed.
The bus riders were seniors from area high schools who were heading for a pre-arranged visit at Humboldt State University in Arcata, Calif., said Glenn County sheriff's dispatcher Pauline Spooner, in USA Today.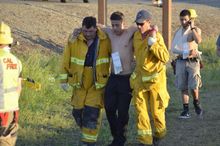 "Humboldt State University is deeply saddened by [the] tragic accident," the school said in a statement reported by USA Today. "They were on their way to visit campus for the April 11 Spring Preview event. Our hearts go out to those who have been affected, and we are here to support them and their families in any way possible."
Dozens more were sent to area hospitals for treatment of injuries that included broken bones, burns and cuts.
The crash resulted in a couple of loud booms, and then fire broke out, students told local media. Many escaped through windows they kicked in, local media reported.
"I just heard this loud boom," Steven Clavijo, 18, a student at West Ranch High School in Santa Clarita, told The Associated Press. "We knew we were in major trouble."