Senate Majority Leader Harry Reid weighed in on the Nevada ranch standoff, warning that even though federal agents retreated over the weekend, "it's not over."
Mr. Reid's remarks Monday appeared to be his first public comments since Bureau of Land Management agents touched off a confrontation with demonstrators last week by seizing cattle from the Bundy family ranch in a dispute over grazing fees. The agency, which says Cliven Bundy owes more than $1 million in unpaid fees, backed off Saturday and returned the cattle.
In impromptu remarks Monday after a speech at the University of Nevada, Reno, however, Mr. Reid struck a defiant tone on the matter of lawbreaking.
---
SEE ALSO: Ron Paul warns of Waco-like end to Nevada ranch fiasco
---
"We can't have an American people that violate the law and just walk away from it," Mr. Reid told Reno TV station KRNV. "So it's not over."
That feeling was shared, albeit from the opposite direction, by some of the hundreds of protesters from across the West who congregated at the Bundy cattle ranch near Mesquite, Nev.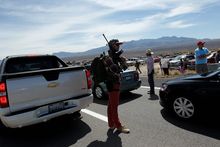 Many of them remained Monday at the property, despite pleas from federal and state officials to disband and return home.
---
SEE ALSO: Former sheriff willing to let wife, daughters die on front lines of Bundy ranch
---
"I feel sorry for any federal agents that want to come in here and try to push us around or anything like that," Jarad Miller said in an interview with KRNV-TV. "I really don't want violence toward them, but if they're going to come bring violence to us, if that's the language they want to speak, we'll learn it."
Bureau of Land Management agents returned about 400 cattle to the Bundy family over the weekend amid escalating tensions between law enforcement and hundreds of anti-BLM demonstrators outside the ranch.
Mr. Bundy's son Ammon was struck with a stun gun, and local television footage showed Bundy relatives and supporters engaged in heated arguments with law enforcement officers.
BLM spokesman Craig Leff confirmed Monday that "the gather is over" after telling reporters over the weekend that the bureau will "continue to work to resolve the matter administratively and judicially."
Speculation on Mr. Reid's role in last week's confrontation at the ranch has been rife, given his prominent position as Nevada's elder statesman and his ties to BLM director Neil Kornze.
Mr. Kornze, 35, served for eight years on the Senate leader's staff before joining the BLM in 2011. He was the Mr. Reid's pick to head the agency, and his final confirmation was April 8 as the roundup at the Bundy ranch was underway.
In an updated statement Saturday, Mr. Kornze said the cattle gather was halted "because of our grave concern about the safety of employees and members of the public."
Mr. Reid also has been accused of attempting to shut down the ranch in order to move ahead with two nearby solar energy projects, an accusation denied Monday by the senator's press aide.
Reid spokeswoman Kristen Orthman told KLAS-TV in Las Vegas that "there is no truth to the conspiracy theories that are being pushed by right-wing media outlets."