CONCORD, N.C. (AP) - NASCAR team owner Gene Haas is out to prove that an American-based team can succeed in the Formula One racing series.
"I think we can beat the Europeans at their own game," Haas said Monday at a news conference.
Haas said he plans to field a team "Haas Formula" either in 2015 or 2016, depending on how long it takes to find an engine supplier and get things up and running.
Haas Formula would become the first American-based Formula One team since Parnelli Jones Racing in 1974-76, which employed Mario Andretti as its driver.
The FIA granted entry to the American-based USF1 team in 2009 but it was a major failure and never hit the grid in part of because of a lack of financial backing. As a result, there is plenty of skepticism when it comes to Haas' foray into the Formula One world.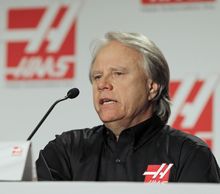 "It's extremely hard to do," Haas said. "I wouldn't be doing it if I thought I was going to fail. But that's the challenge - proving other people wrong."
Haas said he expects the venture into Formula One racing to cost billions of dollars.
"Every week it goes up by another billion," he said with a grin.
However, he said he has better resources than the failed USF1 team, which puts him ahead of the curve.
Haas is the owner of CNC machine manufacturer Haas Automation, one of the largest machine tool builders in the world. He recently said the company, which is based in California, currently exceeds $1 billion in annual sales.
He also operates the Windshear wind tunnel, one of the most sophisticated wind tunnels for the testing of car aerodynamics in the world.
"USF1 was a basically startup that had no resources whatsoever and didn't have a racing team and it took on a huge challenge," Haas said. "I admire the fact they took that challenge.
"But on the other hand I'm partners with Tony Stewart in a very successful (NASCAR) racing team and I have a machine tool company that has the capability of building the most sophisticated machines in the world. … I have a lot of the resources and infrastructure that is necessary to succeed."
Haas said his goal is hire a young American driver with a great potential - although he hasn't begun to narrow down that search.
He co-owns a NASCAR team with Stewart and Danica Patrick, Kevin Harvick and Kurt Busch all drive for them.