The District's Republican Party says it will sue any sitting Democrat on the D.C. Council who opts to run as an independent for one of two at-large seats reserved for minority political parties, promising the latest spirited defense of the set-aside positions that have long been a source of discord among city politicians.
"The law was set up for third-party candidates, for nonmajority candidates. It wasn't set up so Democrats could play games with their identification," said D.C. GOP Chairman Ron Phillips, pointing to the Republican and Statehood Party candidates who have held the seats in the past.
The threat was made after two Democrats — council members Tommy Wells and Yvette M. Alexander — last week openly discussed switching to independent status to pursue the at-large seat being vacated by Republican turned independent David A. Catania in his bid for mayor. Another five independent candidates, all of whom were previously registered as Democrats, also have expressed interest in the seat.
The tactic exploits what critics call a loophole in the Home Rule Act, which was passed by Congress in 1973 and set up the current form of local government. A clause in the act, thought to be a concession to congressional Republicans, states that no more than three of the five at-large council members, including the council chairman, shall be "affiliated with the same political party."
In a city where more than 75 percent of registered voters identify as Democrats, the council has skewed similarly blue. The 11 Democrats on the 13-member legislative body account for an 84 percent majority.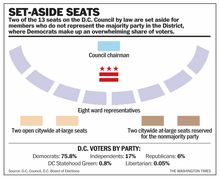 So with a new slew of thinly disguised Democrats vying for the set-aside seats, members of minority parties are fuming. Statehood Greens, Republicans and Libertarians all have candidates who qualified through primary elections April 1 for the general election in November.
"I see it as pure opportunism," said David Schwartzman, a DC Statehood Green Party candidate for "shadow" U.S. senator. "It leads one to question the principles of people who do this."
A 'viable option'
In the D.C. Council's history, three Democrats turned independents have been elected to the set-aside at-large seats. Critics point to the 2008 election of Michael A. Brown — son of former Democratic National Committee Chairman Ronald Brown — as the Democrats' most flagrant abuse of the system.
Brown ran unsuccessfully as a Democrat for mayor in 2006 and for a council seat from Ward 4 in a 2007 special election. After serving his at-large term as an independent and losing his re-election bid in 2012, Brown within weeks switched affiliation back to Democrat to run in a special election last year. He dropped out of the race after coming under federal investigation, has since pleaded guilty to taking bribes while on the council and is awaiting sentencing.
The D.C. Republican Party took the city's Board of Elections to court after Brown's 2008 victory, but his win was upheld by the D.C. Court of Appeals.
D.C. elections law prevents a candidate who loses in a party primary from becoming an independent in order to run in the general election in the same race, but nothing prevents a candidate from switching and running for a different office and no litmus test to determine party affiliation, said Kenneth J. McGhie, general counsel for the Board of Elections.
"We don't second-guess it," he said. "As long as you change your party affiliation within the time frame."
Mr. Phillips said the Republican Party believes a lawsuit against a sitting council member would stand a better chance than the lawsuit filed in Brown's case. Mr. Wells, for example, served as a Democrat representing Ward 6 since 2007 and lost his seat when he attempted a bid for mayor.
Ms. Alexander, who was elected as a Democrat from Ward 7 in 2007, said she didn't think changing parties would be dishonest and that she is considering the run to raise her political profile while making room for other candidates.