A Washington-brokered deal to ease tensions in Ukraine faltered Monday as pro-Russia gunmen refused to leave government buildings in eastern Ukraine and Russia's foreign minister accused Kiev of allowing anti-Moscow extremists to run rampant.
Vice President Joseph R. Biden arrived in the Ukrainian capital with a bipartisan delegation of U.S. lawmakers to show support for struggling pro-Western leaders and to push a strategy that U.S. officials hope might ween the nation off Russian natural gas. Mr. Biden is the highest-ranking American official to visit Kiev since the crisis began.
Obama administration officials said Mr. Biden would deliver a message of "national unity" during meetings Tuesday with leaders of the pro-Western interim government.
---
PHOTOS: Biden arrives to aid Ukraine; pro-Russians refuse to leave
---
A key focus of the visit, however, will be a strategy of "reverse flow," essentially an attempt by Washington to get natural gas pumping into Ukraine from the West rather than from Russia.
One senior administration official said a U.S. team was on the ground to determine whether reverse flow could work to Ukraine's advantage. The team, the official said, will travel to Slovakia, Poland and Hungary to "help address the issue of reversing the flow of natural gas to provide Ukraine with some measure of short-term supply of natural gas as they look to replenish their stores."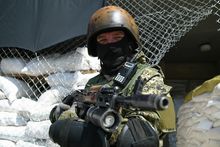 The strategy is likely to fuel anger in Moscow, whose economic leverage in neighboring Ukraine has long been rooted in Kiev's dependence on Russian gas.
---
SEE ALSO: Joe Biden vows to Ukraine: 'We want to be your partner and friend'
---
Leaders of Gazprom, Russia's state-owned gas monopoly, said in recent weeks that pumping gas from European Union nations into Ukraine is illegal if not physically impossible.
Obama administration officials said Mr. Biden also plans to encourage Ukrainian leaders to implement a Geneva Agreement that Secretary of State John F. Kerry helped broker over the weekend between Russia and Ukraine to prevent a full-blown civil war in Ukraine.
The agreement, reached after an exhaustive round of talks in Switzerland, called for Kiev and Moscow to persuade all illegally armed groups operating in Ukraine to lay down their weapons. It also called for pro-Russia separatists in eastern Ukraine to cede control of several government buildings they have been occupying for two weeks.
Despite the deal, pro-Russia separatists showed no signs of budging from their positions, including in Donetsk, eastern Ukraine's biggest city. The separatists have declared an independent "people's republic" in the city and appointed themselves to government posts.
Their ultimate goal is to secede from Ukraine, be effectively annexed into Russia or simply achieve a kind of heightened autonomy from Kiev and its Western-leading government.
Washington's attempts to ease tensions have been hampered by the outbreak of fresh violence in the east.
Three people reportedly were killed Sunday in a clash between pro- and anti-Russian groups in the city of Slavyansk, just north of Donetsk.
Russian leaders were quick to blame the violence on Kiev, saying the government was failing to keep its promise to rein in extremist and Ukrainian nationalist groups in the region.
"Extremists are calling the tune," said Russian Foreign Minister Sergey Lavrov, according to the BBC.