ANALYSIS/OPINION:
Text message sent shortly before 10 p.m. Sunday: How 'bout those Wizards?
Text message received in reply: They're going all the way.
---
SEE ALSO: Wizards win first playoff game in six years, beat Bulls in Game 1
---
OK, now that's crazy talk.
The Wizards are one game into their playoff run and it was quite an impressive game. They won Sunday in Chicago, putting the Bulls in a quick hole heading into Tuesday's second game. But as good as they looked in their first playoff game in six years, let's not go sizing the Wizards up for a crown just yet — unless you are a believer in history repeating itself.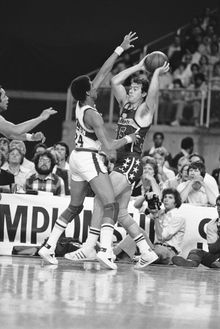 Those of a certain age remember the last time the team won an NBA title, back when it was called the Bullets. It was 1978. That team? Finished the regular season with a record of 44-38. This team? Finished the regular season with a record of 44-38. That team? An interesting mix of veterans and youngsters. This team? Same thing. That team? Six players who averaged in double figures in scoring with three between 15.9 and 14.1. This team? Five who average in double figures with four between 17.1 and 13.2.
---
SEE ALSO: Late rebounding crucial for Wizards in Game 1 win
---
"I'm all over this right now. I'm hungry to see this team have success," said Kevin Grevey, who certainly remembers the 1978 championship very well. He was a second-year guard out of Kentucky who averaged 15.5 points. Now he owns a restaurant in Falls Church that bears his name, does a smidge of television commentary and frequently goes to see the Wizards play. And likes what he sees.
"At the last home game," Grevey said, "I thought about that record. I was at the game in Ted [Leonsis'] box and I mentioned it to him. That 44-38, we were a lot better than that. We had injuries. There were a lot of reasons our record wasn't a lot better. We were good. When those playoffs started, despite the record, we felt we were as good as anybody."
Yep, another similarity. The Wizards dealt with some injuries, too, and their record should have been better.
A major difference is the championship team Grevey was on was led by veterans with the youngsters playing more of a supporting role. This year's Wizards are the reverse.
The 1978 champions got 19.7 points and 13.3 rebounds from 32-year-old Elvin Hayes. Wes Unseld, 31, averaged 7.6 points and 11.9 rebounds. Bobby Dandridge, 30, had averages of 19.3 points and 5.9 rebounds.
"We knew the clock was running out on Wes and Elvin to some extent," Grevey said. "Wes was just a great leader. We had 2-3 days of practice before we started the playoffs. He said, 'Guys, if you have any agendas, anything to do, wait 6-8 weeks. I don't know how many more runs we have in these old legs. I have it for the playoffs.' We were in this little classroom at Bowie State and I'm sitting there thinking, 'I'm all in.' Everybody felt the same way."
The Bullets beat Atlanta 2-0 in the first round, called a mini-series in those days. They took out San Antonio in six games, Philadelphia in six and then capped the run by beating Seattle in seven for the championship.
"Philadelphia was really good, really good," Grevey said. "When we beat them on their court in the first game, we knew we were as good as anybody in the NBA. You have to prove it against the best and we did."
The Wizards are led by their youngsters, at least on the scoresheet. John Wall averages 19.3 points, Bradley Beal 17.1. Beyond them is an incredible veteran support group that does a bit of everything. Nene, who missed 29 games during the season, averages 14.1 points. Trevor Ariza, an impending free agent who is playing his way into a huge deal, averages 14.4 points and 6.2 rebounds. Marcin Gortat, also about to hit the free-agent market, averages 13.2 points and 9.5 rebounds.