ANALYSIS/OPINION:
Wizards Fever. Catch it?
Naw. Played out.
---
SEE ALSO: Wizards mount comeback, take two-game lead in playoff series
---
Wiz-a-tude or even Nothing But Wiz-a-tude?
No thanks. The whole 'tude' thing hasn't exactly done wonders for the baseball team.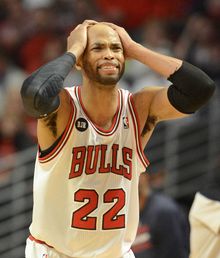 Rock the Red, White, Blue and Silver?
Too many colors and the hockey team has actually made Rock the Red work, even though there's nothing but silence to rock now as the Stanley Cup Playoffs carry on with the Capitals not included.
Or, how about nothing? Maybe just plain going out and winning will be enough to generate a surge in interest in the area's only current playoff-participating professional team.
The Wizards went to Chicago for their first playoff series in six years and came home with a 2-0 lead over the Bulls. Game 3 is Friday night at Verizon Center and it will be curious to see how the area reacts to a team that is starting to garner some attention in a lot of places around the NBA. No less of an expert than former player and current television analyst Charles Barkley said the Wizards were the third-best team in the East right now.
In a conversation earlier this week, Kevin Grevey expressed some frustration that the Wizards were operating in a bit of a vacuum. A local restauranteur and raconteur, Grevey was a shooting guard on the Bullets team that won the 1978 NBA title. He's been a fixture in town since and knows basketball. He also knows D.C. and what the Wizards are up against as they try to capture the area's fancy.
"Right after the Final Four, that Tuesday, the Wizards had just clinched a spot in the playoffs," Grevey said. "There was a lot to talk about here in Washington, with the Wizards and the great NCAA tournament. And all anybody wanted to talk about was DeSean Jackson coming to town. That confirmed to me — this is a football town.
"The only way the Wizards are going to make a dent is by doing what we had to do. By winning. You just have to prove it."
If the Wizards haven't proven it by now, they're dealing with a very tough jury.
They may not win another game in these playoffs. Who knows? But what they've done so far has been more impressive than anything the other 15 teams still alive have done. Sure, they're a five-seed and the Bulls are a four, so a Wizards victory in the series wouldn't qualify as a massive upset. But it goes beyond that.
After Jan. 1, the Bulls posted the best record in the East at 36-16. That's more than half the season. That's better than Indiana, better than Miami. The Bulls are a rugged, physical team that plays some of the league's best defense (second in the NBA in points allowed per game). All the Wizards have done these first two games is stare right back at them, push back, claw back from deficits and win two games away from home.