It's one thing when your boss is honored for a job well done. It's another when he is made a saint.
Andreas Widmer spent two years at the side of Pope John Paul II as part of the elite papal security force known as the Swiss Guard. On Sunday, he will be one of the thousands of people in Vatican City for the canonization of his mentor.
"I know a saint," Mr. Widmer said with a laugh. "I'm becoming a secondary relic."
The Roman Catholic Church will canonize John Paul and Pope John XXIII in a ceremony that Pope Francis said will be simpler and more somber than the 2011 beatification of John Paul. Even reports from heavily Catholic Poland show subdued anticipation for the canonization of one of its most famous native sons.
For sainthood in the Catholic Church, beatification is the first major step and usually requires a miracle attributed to the intercession of the candidate. A second miracle usually is required for canonization to sainthood.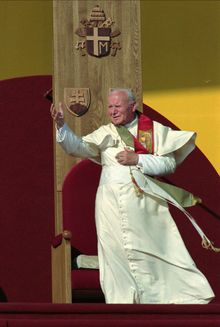 John was elected pope in October 1958 and convened the Second Vatican Council. He died in 1963 and was beatified in 2000 by John Paul II.
John Paul was elected in 1978 and died in 2005. He was beatified in 2011 by Pope Benedict XVI, who waived the traditional five-year waiting period to begin the sainthood process.
The two disparate pontiffs are widely considered among the most charismatic and consequential popes of the modern era. Each has left a legacy that has been controversial both inside and beyond the faith.
John's convention of the Second Vatican Council is credited by many with helping usher Catholicism into the 20th century, with enduring changes to basic rituals and the public face of the 2,000-year-old church.
The energetic John Paul II, the first non-Italian bishop of Rome in more than 400 years, left a more conservative legacy. After surviving a 1981 assassination attempt, he played a central role in global politics that ended the Cold War and brought independence and democracy to his troubled homeland.
Some say the avuncular John went too far with his liberalizing efforts; others say John Paul went too far with his conservative retrenchment.
Despite his global popularity, the Polish pontiff also has critics inside the church and beyond who say he did not do enough in his decades in Rome to address the child abuse scandal that rocked the church in the United States and other countries.
Still, the ceremony Sunday will be a remarkable event for the church.
The Rev. Thomas Worcester, College of the Holy Cross's history and papacy professor, said a canonization or beatification is rare, and "quite exceptional" with two popes.
Candidates for sainthood "are expected to be suitable role models," the Jesuit priest said. "A pope is a very strange choice because in some ways only popes can imitate him."