President Obama is known as an avid golfer and sports fan, but Thursday was likely the first time he played soccer with a robot.
Just before addressing a group of 30 Japanese students — and warning them about the looming devastation of climate change — the president toured Tokyo's National Museum of Emerging Science and Innovation and viewed a demonstration of an award-winning robot that can, among other things, kick a soccer ball.
"It's nice to meet you," the humanoid robot told Mr. Obama, then bragged about its athletic prowess.
---
SPECIAL COVERAGE: Energy and Environment
---
"I can kick a soccer ball, too," said the robot, which was roughly the size of a 10-year-old child and clad in an astronaut suit.
The machine then stepped back and delivered a powerful kick to the ball, which the president immediately trapped with his foot.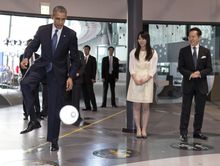 "How about that, that was pretty impressive," Mr. Obama said, later adding that "the robots were a little scary. They were too lifelike."
After some lighthearted fun with robots, the president turned to more serious topics.
Speaking to a group of Japanese students, Mr. Obama warned of global warming and said young people and their innovative ideas are the keys to preserving the planet.
"It's important when we look at this globe and we think about how technology has allowed us to understand the planet that we share, and to understand not only the great possibilities but also the challenges and the dangers from things like climate change — that your generation is going to help us to find answers to some of the questions that we have to answer," Mr. Obama told a group of about 30 students attending the Miraikan Science and Youth Expo, held inside the museum.
"Whether it's: How do we feed more people in an environment in which it's getting warmer? How do we make sure that we're coming up with new energy sources that are polluting less and can save our environment?" the president continued. "It starts with the imaginations and the vision of young people like you."
Mr. Obama and Japanese Prime Minister Shinzo Abe also announced a new initiative to encourage more Japanese students to study abroad in the U.S., and vice versa.