Ignoring Obama administration threats of stiffer sanctions, Russia began military exercises near its border with Ukraine on Thursday after Ukrainian forces killed at least five pro-Russia insurgents in a drive to recapture occupied buildings in the country's tumultuous east.
The Russian posturing prompted a harsh rebuke Thursday evening from Secretary of State John F. Kerry, who defended the Ukrainian government and lambasted Moscow for taking "an active role in destabilizing eastern Ukraine with personnel, weapons, money, operational planning and coordination."
Mr. Kerry accused Russia of flouting a U.S.-brokered agreement to ease tensions in Ukraine and declared that the "window for Moscow to change course is closing."
---
SEE ALSO: Russia's foreign minister: West wants 'to seize control of Ukraine'
---
"If Russia chooses the path of de-escalation, the international community, all of us, will welcome it. If Russia does not, the world will make sure that the costs for Russia will only grow," he said. "As President Obama reiterated earlier today, we are ready to act."
He did not elaborate on what actions the White House would take, but his comments were among the strongest by the administration and were made on a day of heightened violence and fears of a widening conflict in eastern Ukraine.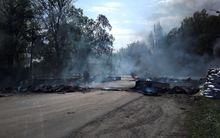 The Ukrainian government said its military forces killed as many as five rebels during an effort to remove roadblocks erected by pro-Russia activists in the city of Slovyansk.
Russian President Vladimir Putin described the Ukrainian military move as a "punitive operation" that could warrant a harsh response.
"If the Kiev government is using the army against its own people, this is clearly a grave crime," Mr. Putin said in St. Petersburg. "It will have consequences for the people who make such decisions, including relations between our countries."
His statement and the announcement of military exercises involving ground and air forces escalated tensions over the prospect of a Russian military incursion into Ukraine.
Russia's foreign minister warned Wednesday that any attack on Russian citizens or interests in eastern Ukraine would trigger a strong response.
The crisis "could quickly spin out of control," U.N. Secretary-General Ban Ki-moon warned Thursday.
Ukraine issued a 48-hour deadline for Russia to explain its military drills, but its foreign ministry did not say what Ukraine would do if Russia does not comply.
President Obama on Wednesday warned of dire consequences if Russia did not pull back its estimated 40,000 troops from the Ukrainian border and compel pro-Russia militants in eastern Ukraine to lay down their arms.
Speaking in Tokyo during a four-nation tour of Asia, Mr. Obama said Thursday that the U.S. is "teed up" to impose further sanctions if Russia does not abide by a tentative agreement reached last week in Geneva.
The agreement called for Kiev and Moscow to persuade all illegally armed groups operating in Ukraine to lay down their weapons. It also called for pro-Russia separatists in eastern Ukraine to cede control of government buildings they have occupied for the past three weeks.