Amid increasing violence by a resurgent al Qaeda, Iraqis will vote this week in the first parliamentary elections since the departure of U.S. troops in 2011 as the country edges closer to outright sectarian warfare and the government moves closer to Iran.
On Monday, militants thought to be Sunnis attacked polling stations across Iraq, where 22 million people have registered to vote. At least 46 people were killed in the attacks, the deadliest of which was a suicide bombing in a Kurdish town northeast of Baghdad and close to the Iranian border.
Army and police personnel cast ballots Monday, two days earlier than the civilian population.
More than 9,000 candidates are vying for 328 seats in Wednesday's parliamentary elections. Despite a surge in violence throughout Iraq, Prime Minister Nouri al-Maliki's State of Law slate of candidates is expected to win a majority of the seats, propelling him to a third, four-year term in office.
But an outright majority is not expected, and Mr. al-Maliki likely will have to form a government with coalition partners.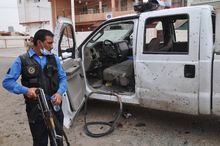 "A lot has been attached to these elections for the past couple of years because Iraq's politics have been witnessing a serious political gridlock," said Sarhang Hamasaeed, a senior program officer for the Middle East and North Africa programs at the U.S. Institute of Peace. "The hope is that these elections will bring new opportunities for the different political parties to work together and change the political dynamics in ways that will help the country go in a different direction."
Forming a government is likely to be a protracted process resulting in a summer of political uncertainty.
Michael O'Hanlon, a researcher with the Center for 21st Century Security and Intelligence at the Brookings Institution, is pessimistic about the prospects for change.
"A Maliki re-election is likely, and any repair of the ethnic tensions that have resurfaced over the past one to two years in force is unlikely," said Mr. O'Hanlon. "I don't find the elections all that uplifting, either in what the process itself is generating or in the probable outcome."
Critics accuse Mr. al-Maliki of monopolizing power and alienating the minority Kurdish and Sunni communities. The prime minister says he has never overstepped the constitution.
Spurred in part by critics' claims that Mr. al-Maliki, a Shiite, is transforming himself into a strongman, the Obama administration pressured the prime minister to hold elections on time. The issue was high on the agenda when Mr. al-Maliki visited Washington in November.
Although the U.S. provides military support to Iraq, Washington's influence in Baghdad is waning as Mr. al-Maliki develops close ties with Iran.
Mr. al-Maliki's main Shiite rivals are Al-Muwatin, headed by the powerful cleric Ammar al-Hakim of the Islamic Supreme Council of Iraq and Al-Ahrar, which is stocked with followers of the firebrand Shiite cleric Muqtada al-Sadr.
Like the Shiites, the minority Sunnis and Kurds also have not been able to field unified slates.
The three main Sunni slates — Mutahidoun, Al-Arabiya and Wataniya — are led by parliament Speaker Osama al-Nujaifi, Deputy Prime Minister Saleh al-Mutlaq and former Prime Minister Ayad Allawi, respectively.