An armed female security officer confronted Fort Hood gunman Spc. Ivan Lopez minutes after his deadly rampage began, firing off a round before he put his .45-caliber Smith & Wesson pistol to his head and pulled the trigger.
More details emerged Thursday in the Texas Army base shooting that left four dead, including the gunman, and 16 wounded as military and civilian officials grappled with the aftermath of the second deadly Fort Hood massacre in five years.
Lt. Gen. Mark Milley said at an on-site news conference that there are no indications so far that 34-year-old Lopez had any connection to national or international terrorist groups. Instead, Gen. Milley pointed to the Army transportation specialist's struggles with mental-health issues.
---
SEE ALSO: After Fort Hood, White House says more must be done to help troubled veterans
---
Mr. Lopez was being evaluated for post-traumatic stress disorder after serving four months as a truck driver in Iraq. He was not wounded, but his stress and anxiety may have been the "fundamental underlying cause," said Gen. Milley.
"We have very strong evidence that he had a medical history that indicates an unstable psychiatric or psychological condition," said Gen. Milley.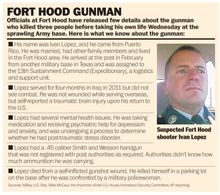 He also said there was strong evidence Mr. Lopez had recently been embroiled in an argument, which may have touched off the shooting rampage. The gunman purchased his firearm March 1 from Guns Galore in Killeen, Texas.
"We're looking into that, trying to figure out what the trigger event was," said Gen. Milley. "It was mentioned yesterday there may have been a verbal altercation with another soldier or soldiers, and there's a strong possibility that that in fact immediately preceded the shooting. But we do not have that definitively at this point, but we do have strong indications."
Army Secretary Gen. John McHugh told a Senate committee that the shooter was being treated for a variety of mental-health issues.
"He was undergoing a variety of treatment and diagnoses for mental health conditions, ranging from depression to anxiety to some sleep disturbance. He was prescribed a number of drugs to address those, including Ambien," Gen. McHugh said.
The shooting raised alarms about military security, coming on the heels of September's attack at the Washington Navy Shipyard and less than five years after the first Fort Hood massacre in November 2009, which left 13 dead and remains the deadliest base shooting in U.S. history.
That shooter, Army Maj. Nidal Malik Hasan, later described his attack as an Islamic jihad, although federal authorities called it an act of "workplace violence." He was sentenced in August by a military jury to death.
There were calls Thursday for more attention to the psychological traumas faced by soldiers coming off tours of duty in Iraq and Afghanistan, as well as calls to repeal the ban on allowing military personnel to bring firearms on base.
Rep. Steve Stockman, Texas Republican, urged House members to support his bill, H.R. 3199, "The Safe Military Bases Act," which would allow the carrying of firearms on base. Currently only security personnel such as military police are allowed to be armed.
"This is the third mass shooting on a military base in five years, and it's because our trained soldiers aren't allowed to carry defensive weapons," said Mr. Stockman in a statement. "Anti-gun activists have turned our military bases into soft targets for killers."
Gen. Milley said the deadly attack prompted a number of acts of "clear heroism," starting with the female security officer who confronted Lopez four minutes after the first 911 call. There were also two soldiers who called 911, the medical staffs that treated the wounded, and a chaplain who acted to protect soldiers from harm.