In Leesburg, Va., congregation Sha'are Shalom's walkathon last year for pediatric cancer patient Gabriella Miller could have used more participants.
Since President Obama signed legislation Thursday named in honor of the late 10-year-old, chances are this weekend's walk will be a bit more crowded.
"Walkin' With Gabriella" begins 9:30 a.m. Sunday at Heritage High School in Leesburg, and is one of dozens of events in the D.C. area marking Good Deeds Day.
"We've always done something like Good Deed's Day … for different organizations," said Joe Arnstein, one of the congregation's walkathon organizers. "The [last] one was unique because it actually singled out a family that was going to benefit. But it felt good. We know this year the Millers needed comforting. The rabbi said, 'Look, we want to do the walkathon again, but we also want to contribute to other local organizations.'"
Along with the walk to raise money for the Miller family's "Smashing Walnuts" campaign to help find a cure for pediatric brain cancer — like the walnut-sized inoperable tumor that killed Gabriella — participants also can bring paper and food donations for the Loudoun Abused Women's Shelter, and Boulder Crest Retreat for Military and Veteran Wellness.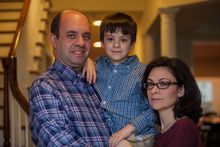 Area schools and congregations like Sha'are Shalom are hosting parochial events, but Good Deeds Day organizers said plenty of volunteer opportunities are available Sunday.
Sarah Sicherman, assistant director of marketing for the Jewish Federation of Greater Washington, said some 6,000 people are expected to participate in more than 60 events around the area.
"We've been very impressed with how it's really taken hold in the community," Ms. Sicherman said. "It's part of the international day of doing good. It started in Israel, and outside of Israel we're the largest community that participates in Good Deeds Day. People realize how easy it is to do good things in their community and it gives lots of different partner agencies the opportunity to work with constituents, synagogues and youth programs."
International Good Deeds Day was held March 9, Ms. Sicherman said, but the federation is limited in when it can schedule the local observances because of spring breaks and Passover.
Ms. Sicherman said the Washington D.C. Jewish Community Center, the Jewish Community Center of Greater Washington, and the Gesher Jewish Day School are taking the lead for Sunday's local events.
At the D.C. Jewish Community Center, Good Deeds Day starts at 9:30 a.m. with arts and crafts projects that will go to patients at the Children's Inn at the National Institutes of Health. Walk-in volunteers are welcome to help knit scarves and hats for the homeless, and pack summer kits that include fruit, granola bars, sunscreen and chapstick.
Erica Steen, director of community engagement at the community center, said volunteers can write letters to soldiers overseas, and an off-site painting project is set for the New York Avenue Men's Emergency Shelter.
At the Greater Washington community center, volunteers are invited to help pack more than 1,000 lunches for homeless shelters in Montgomery County.
Crafty people are needed to make fleece blankets, beaded bracelets and necklaces destined for homeless children and patients at Children's Inn, said Tracey Dorfmann, the center's chief program officer. The center also is collecting running shoes that will be donated to people in developing countries.
"We're very excited to have a program here so we can allow citizens of our county to help other people who aren't at the table," Ms. Dorfmann said. "The main emphasis is we want to be able to help citizens of the county help each other."