RICHMOND — Running down the left side of CenturyLink Field in Seattle, there was a question for Trent Murphy: Would he be caught?
In 2012, Murphy was a still-developing junior defensive end/linebacker for the Stanford Cardinal. His ascension from that spot to the Washington Redskins' top pick in the 2014 draft can, in part, be traced to an interception he made that day.
Murphy is 6-foot-5 and 258 pounds. That fall evening in Seattle, the Cardinal was playing the Washington Huskies. To counter Stanford's interior strength, Washington often threw to the edges.
---
SEE ALSO: Hall leaves practice after falling on back
---
In the third quarter, Murphy cut his rush short, jumped and tipped a pass that was aimed to be lofted over him, caught his tip, then ran 40 yards for a touchdown. It was a staggering play for a man in Paul Bunyan's frame.
Murphy just smirks when reminded of the play. So does Redskins outside linebackers coach Brian Baker.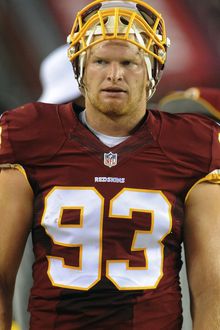 "He made me aware of that play," Baker said.
---
SEE ALSO: With a Redskins roster spot in his sights, rookie Ryan Grant is all business
---
The elements that allowed the second-round pick to pull off such a feat — and a second pick-six a year later — are ones he expects to have a direct translation into the NFL. Instinct and agility are inherent strengths for the 23-year-old wading through his first NFL camp.
"Especially on the backside of plays — as far as boots, reverses, those quick flare screens and stuff," Murphy said. "I think that's ahead of where a lot of rookies are."
The Redskins are using Murphy the same way Stanford did. He's a pass-rushing defensive end/linebacker hybrid. In one instance during Sunday's walk-through, he was among a front four that included Brian Orakpo on the outside right, with Jason Hatcher and Ryan Kerrigan on the interior.
Murphy says the schematic changes in the NFL are minute. The priority remains quarterback pursuit, and maintaining the toughness Stanford has come to be known for. The smartypants in Palo Alto, California, have evolved into the football bullies of the Pac-12 Conference.
The Redskins' defense could use any form of assistance. It tied for 30th in points allowed per game last season under defensive coordinator Jim Haslett, who was retained despite a coaching change. The Redskins were also 20th in passing yards allowed and 21st in sacks.
The latter is where Murphy could help the most. Saturday at training camp, he had two "sacks" during 11-on-11 drills. Murphy led country with 15 sacks last year at Stanford.
His usage will be varied. He's coming from the left and right sides in practice. At times, he's the free-running blitzer. With the menacing Orakpo often opposite him, Murphy may see offenses slide a running back or tight end toward Orakpo, leaving him one-on-one edge opportunities.
Murphy will line up with his hand on the ground on rare occasion. He'll blitz, fall into coverage on a tight end or running back leaking out of the backfield and be expected to stop the run. Baker said the Redskins' focus for outside linebackers is rushing the passer. Stopping the run is next. Coverage concern is last. Baker said Murphy is already "proficient" in coverage.
To amass sacks, Murphy will have to manage his processing strength. Identification and prediction of the route of a play allows Murphy to makes plays like the pick-six. It can also stall his break on plays.