RICHMOND — Every team meeting begins with a prayer. Every player foregoes alcohol, profanity and sideburns below the ear. And for Redskins rookie wide receiver Cody Hoffman, it was all very different at first.
Hoffman spent five seasons at Brigham Young University, graduating last year as the most prolific receiver in the program's 91-year history. But at a school where 98.5 percent of the student body belongs to the Church of Christ of Latter-day Saints, and more than 90 percent of the football team is also Mormon, Hoffman was a religious foreigner.
As one of the few non-members at a school owned and operated by a church, Hoffman had to adjust to a strict honor code, which applies to all students regardless of their religious beliefs. He learned prayers, hymns and religious history, weaving lectures in his major (geography) with core classes such as "Book of Mormon 121" and "Doctrine and Covenants 324."
---
SEE ALSO: LOVERRO: As 3rd NFL season nears, 'hopefully' RG3 is 'making progress'
---
"I learned a lot," said Hoffman, who is a Christian. "I'm not against any religion. I just accepted it and learned the things that they do. It grew on me."
The Cougars football team doesn't limit its recruiting to members of the church. Coach Bronco Mendenhall and his staff welcome players of all backgrounds and seek out lightly recruited players, like Hoffman, who they believe will fit in with culture of the team. Hoffman said BYU was his only Division I offer.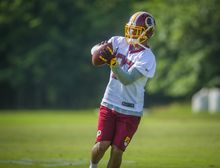 Hoffman knew what he was getting himself into, but there was still an adjustment. He estimated that 90 of the 105 players are Mormon in any given season. They pray together and sing hymns. And on Friday nights before road games, the majority of players attend a religious gathering called a fireside, hosted by the team at an LDS church in the area.
---
SEE ALSO: Redskins interested in bringing another team into camp again next year
---
When they take the field, the religious differences dissipate.
"They have a common objective," said linebacker Bryan Kehl, a church member who starred at BYU before spending two stints with the Redskins. "They work and sweat and bleed with each other. That kind of binds you together as a football team, where you might have some differences as far as your faith background goes."
"We're still playing football, and we're still doing everything a football team does. We just do it with a faith-based mindset, if you will."
Hoffman said his teammates helped him navigate student life at BYU, which is unlike any other college experience. Students are frequently departing for and returning from missions, which typically last between 18 months and two years. Because of the church's emphasis on marriage, nearly a quarter of the student body (24 percent) is already married.
All the while, the honor code looms, prohibiting the consumption of alcohol, coffee, tobacco and tea as well as beards, sleeveless T-shirts and sex before marriage, among other things.
"It really didn't affect my college experience as much as I thought it would," Hoffman said. "Being with the team, they kind of took me under their wing. A few of the guys, if they were Mormon or even if they weren't Mormon, they accepted me the way that I was. That made things a lot easier because I knew I could always rely on them for anything that I needed."
After a redshirt season, Hoffman started 10 of 13 games as a freshman and led the team in catches, touchdowns and receiving yards. He holds every major receiving record at BYU, including most career receptions (260), receiving yards (3,612) and touchdown catches (33).
The 23-year-old was a projected late-round draft pick but joined the Redskins as an undrafted free agent. At 6 feet 4, he is the tallest wide receiver in training camp by three inches, giving Washington a much-needed dimension outside. Receivers coach Ike Hilliard said he would just like to see Hoffman use that height more effectively.
"We'd like to see Cody be more physical on the perimeter, play with the size he's been given," Hilliard said. "But really it's all about opportunities. There haven't been many to this point. He'll get more going forward."