Actress Lauren Bacall, the widow of screen legend Humphrey Bogart and one of the last surviving studio-era movie stars, died at age 89 from a stroke.
According to multiple news outlets Tuesday evening that cited family members and/or the Humphrey Bogart Estate, Miss Bacall died Tuesday morning at her home in New York.
In a career that spanned seven decades, she appeared in more than 70 films, most prominently opposite her husband in "The Big Sleep," "Dark Passage" and "Key Largo."
---
PHOTOS: Celebrity deaths in 2014
---
Their first on-screen pairing was in 1944's "To Have and Have Not," when she was 19 and he was 45. One of their first scenes together is often cited among the sexiest scenes ever filmed, in which the sultry, husky-voiced Miss Bacall slinks up to Bogart's character (Steve) and says: "You know you don't have to act with me, Steve. You don't have to say anything, and you don't have to do anything. Not a thing. Oh, maybe just whistle. You know how to whistle, don't you, Steve? You just put your lips together and blow."
The two were married in 1945 and were together until Bogart's death in 1957. She was married to actor Jason Robards for most of the 1960s, and she said she didn't make as many movies as she might have.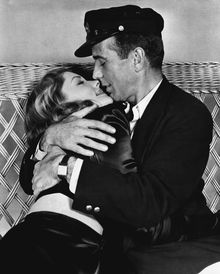 "I put my career in second place throughout both my marriages, and it suffered. I don't regret it. You make choices. If you want a good marriage, you must pay attention to that. If you want to be independent, go ahead. You can't have it all," she said.
Miss Bacall was born Betty Joan Perske to East European Jewish immigrants in the Bronx, New York, in 1924.
When director Howard Hawks cast her in "To Have and Have Not," Miss Bacall had little acting experience, and her limited fame was based on having been a fashion model. She also caused a bit of a scandal in 1945 by being photographed in a sultry pose on a piano at the National Press Club that was being played by Vice President Harry S. Truman. In the photograph, the vice president seems to be all but peering up the starlet's dress.
Throughout the 1950s, she appeared in a number of big-budget Technicolor hit movies such as the gold-digging film "How to Marry a Millionaire" (billed third behind Marilyn Monroe and Betty Grable), the screwball comedy "Designing Woman" with Gregory Peck, and the Douglas Sirk-directed tear-jerker "Written on the Wind" with Rock Hudson and Dorothy Malone.
She made few films later in life, perhaps the best-known being the matriarch in the Agatha Christie adaptation of "Murder on the Orient Express."
But she eased into the life of a living legend, appearing as herself in an episode of "The Sopranos" in which a gangster punches her. She also was a frequent guest and interviewee on Turner Classic Movies and was ranked No. 20 of the 25 actresses on the American Film Institute's 50-star special "100 Years 100 Stars" in 1999.
With Miss Bacall's death, only three of the 50 performers are still alive: Sidney Poitier, Kirk Douglas and Sophia Loren.
Miss Bacall received her only competitive Oscar nomination late in her career, with a nod for best supporting actress in the 1996 Barbra Streisand film "The Mirror Has Two Faces."
Miss Bacall was widely expected to win, but the Oscar went instead to French actress Juliette Binoche for her role as a caring nurse in "The English Patient," and who seemed more surprised than even Miss Bacall at the result.
For a screen-first actress of her generation, especially one known for her physical presence, she also won two Tony awards — for "Applause" in 1970 and "Woman of the Year" in 1981. Both were based on movies from her era — the former a musical version of the Bette Davis classic "All About Eve" and the latter an adaptation of the 1942 Katharine Hepburn-Spencer Tracy comedy.