Don't be alarmed: That shattering sound you hear is just another glass ceiling being broken by another ambitious woman.
From Wall Street to Main Street, on playing fields and in military commands, women have smashed through several long-standing barriers to achieve personal and professional "firsts" this year, as Hillary Rodham Clinton positions herself to crack the biggest glass ceiling — the presidency — in 2016.
"There have been some really wonderful firsts in terms of women, but that's always a cup half-full, cup half-empty," says Lisa Maatz, vice president of government relations for the American Association of University Women.
---
PHOTOS: Women shattering glass ceiling, reaching new heights in 2014
---
"We always want to see women breaking through barriers, but it also continues to be a surprise for barriers that have yet to be broken," Ms. Maatz says. "We want to get to the point where it's just commonplace, not special, [to where] it's just because equality exists, and this is the person who is best for the job at the time."
The first eight months of 2014 have seen a host of female firsts: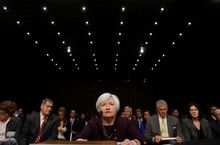 • Janet L. Yellen assumed the office of chairperson of the Federal Reserve Board.
---
SEE ALSO: Obama plans push for gender paycheck equality
---
• Lt. Gen. Michelle Johnson assumed command of the Air Force Academy.
• Becky Hammon became an assistant coach for the San Antonio Spurs — the NBA's first full-time female coach.
• Adm. Michelle Howard became the Navy's first female four-star officer.
• Michele Roberts was named executive director of the NBA players union — the first woman to lead a major U.S. sports union.
• Sue Petrisin was elected president of Kiwanis International, the volunteer nonprofit with more than 300,000 members in 89 countries.
• Lt. Gen. Lori J. Robinson was nominated to lead Pacific Air Forces, the first female commander of the Air Force component of U.S. Pacific Command.
• Shirley V. Hoogstra was elected president of the Council of Christian Colleges and Universities.
• Brig. Gen. Margaret W. Burcham became the first female general in the Army Corps of Engineers.
• Marine Capt. Katie Higgins became the first female pilot in the Navy's Blue Angels demonstration squadron.