RICHMOND — Jim Haslett spent much of the 1980s in the NFL as a linebacker. He once admitted to using steroids during his playing career — a time, he said, most players in the league were also using steroids. At that point, the league did not test for steroids.
The mentality of the desperate prevailed in the NFL then. Doing anything necessary to get and stay on the field was the norm.
As the realities of concussions and the demanding NFL environment began to trickle out, the league has tried to shift from that at-all-costs mentality. To a degree.
---
SEE ALSO: Redskins' Breeland cited for pot possession on eve of training camp departure
---
Monday, Haslett, 58 years old and now the Redskins' defensive coordinator, shot through comments about a variety of individual players.
Eventually, safety Phillip Thomas came up. Thomas was a fourth-round pick out of Fresno State in 2013 and expected to evolve into a starter. But he lost his rookie season because of a Lisfranc injury that needed surgery. He made it through organized team training activities this year before injuring his hamstring. That forced him out of almost half of Redskins training camp in Richmond.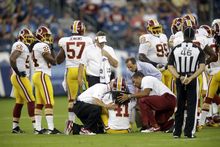 After saying Thomas' inability to get on the field is "frustrating," Haslett harkened back to his playing days.
---
SEE ALSO: SNYDER: No Redskins QB controversy now — maybe later
---
"As a coaching staff, we're frustrated because we just don't know if he's reliable and accountable enough yet from an injury standpoint," Haslett said. "There's a fine line there. Back in my era, we played all the time. It's a little bit different now."
Typically, public comments from coaches about players are watered-down versions of what is happening behind the scenes. The day after Haslett's comments, Thomas had a helmet on, went through individual drills and worked more on the auxiliary practice field. Afterward, he said he would be a full participant in Thursday's practice, the first at Redskins Park, and play in Monday's preseason game against the Cleveland Browns. While he talked, a large ice bag wrapped around his hamstring soothed his leg.
The NFL will always have an underlying push to get on the field. Players know that as each day of camp goes by the vice turns another click. The first round of cuts are just two weeks away.
For coaches, their frustration is understandable. They want to assess as much as possible before making cuts. If a player is not out there, the information load is slight. In addition, pushing a player back onto the field can make everyone's situation worse.
"It's a slippery slope, you know?" coach Jay Gruden said. "It's important for Phillip to get this thing 100 percent healthy and he's got to show us what he can do. There's no doubt he's a lot of the same lines as [running back] Chris Thompson. They have promise and we're excited about what they can do, but we've got to see it.
"We can't see it if they're hurt all the time, so injuries happen, like I said. We understand that, but we've got to figure out a way to get them healthy and get them out on the field as soon as possible so they can show us."
As much as pressure may come from the staff, players also put that on themselves in different ways. Pro-Bowl left tackle Trent Williams has had knee, hip and ankle issues the past two years. In his mind, he has to practice when hurt in order to be looked at as a leader.
"You've got to help coach get practice going and keep it at a high level and keep guys competing," Williams said. "I mean, every now and then a day off isn't bad, but the thing is, when you take a day off, you've still got to be engaged with the players and, you know, get mental reps. I mean, coach Gruden is very good about getting the older guys a day off here and there, and it's cool, but I like to practice."
Phillips is in a different spot. Though the Redskins' defense was poor last season and their current safety situation is in flux, he knows his job is at risk if he's not on the field during the rest of preseason. Thomas has received the $425,204 that were guaranteed in his standard four-year rookie contract. He can be cut without repercussion to the team's finances.