Advancing to the Eastern Conference semifinals last season was enough to push the Wizards more onto the national radar.
The 2014-15 NBA schedule was released Wednesday night. The Wizards will be on national television 10 times after opening on the road in Miami on Wednesday, Oct. 29.
The home opener is Nov. 1 against the Milwaukee Bucks.
---
SEE ALSO: Kris Humphries feels 'blessed' to be a Wizard
---
LeBron James will be back in the gold and wine jerseys of the Cleveland Cavaliers after leaving the Miami Heat in the offseason. James comes to town Nov. 21. The Wizards are at Cleveland Nov. 26.
Kobe Bryant and the Los Angeles Lakers come to the Verizon Center Dec. 3. The world champion San Antonio Spurs visit Jan. 13.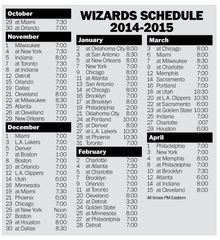 The Wizards also play the New York Knicks at Madison Square Garden on Christmas day, breaking into a lineup reserved for one of the league's showcase days of the season.
---
SEE ALSO: LeBron James, Cavs open vs. Knicks, Christmas in Miami
---
The Wizards' longest home stand is five games from Mar. 25-April 3. The longest road trip will be a five-game road swing from Dec. 29-Jan. 5. The team will also embark on two four-game west coast swings. The first one will send the Wizards to Portland, Denver, Los Angeles, to face the Lakers, and Phoenix from Jan. 24-28. On the second west coast trip from Mar. 18-23, they will face the Jazz, Clippers, Kings and Warriors.
After finishing 44-38 last season, good for the No. 5 seed in the Eastern Conference, the Wizards re-signed center Marcin Gortat and signed free agents Paul Pierce, Kris Humphries and Dejaun Blair. Trevor Ariza, a key wing defender last season, chose to sign with the Houston Rockets in the offseason.
After beating the Chicago Bulls in the first round last season, the Wizards fell to the Indiana Pacers, 4-2, in the Eastern Conference semifinals.
The full schedule:
OCTOBER
29 at Miami, 7:30
30 at Orlando, 7
NOVEMBER
1 Milwaukee, 7
4 at New York, 7:30
5 Indiana, 8
7 at Toronto, 7:30
8 at Indiana, 7
12 Detroit, 7
15 Orlando, 7
19 Dallas, 7
21 Cleveland, 8
22 at Milwaukee, 8:30
25 Atlanta, 7
26 at Cleveland, 7
29 New Orleans, 7
DECEMBER
1 Miami, 7
3 L.A. Lakers, 7
5 Denver, 7
7 at Boston, 1
8 Boston, 7
10 at Orlando, 7
12 L.A. Clippers, 7
14 Utah, 6
16 Minnesota, 7
19 at Miami, 7:30
21 Phoenix, 6
23 Chicago, 7
25 at New York, Noon
27 Boston, 7
29 at Houston, 8
30 at Dallas, 8:30
JANUARY
2 at Oklahoma City, 8
3 at San Antonio, 8:30
5 at New Orleans, 8
7 New York, 7
9 Chicago, 8
11 at Atlanta, 3
13 San Antonio, 7
14 at Chicago, 8
16 Brooklyn, 7
17 at Brooklyn, 8
19 Philadelphia, 2
21 Oklahoma City, 8
24 at Portland, 10
25 at Denver, 8
27 at L.A. Lakers, 10:30
28 at Phoenix, 10:30
31 Toronto, 7
FEBRUARY
2 Charlotte, 7
4 at Atlanta, 7:30
5 at Charlotte, 7
7 Brooklyn, 7
9 Orlando, 7
11 at Toronto, 7:30
20 Cleveland, 8
22 at Detroit, 3:30
24 Golden State, 7
25 at Minnesota, 8
27 at Philadelphia, 7
28 Detroit, 7
MARCH
3 at Chicago, 8
6 Miami, 8
7 at Milwaukee, 8:30
9 at Charlotte, 7
12 Memphis, 7
14 Sacramento, 7
16 Portland, 7
18 at Utah, 10:30
20 at L.A. Clippers, 10:30
22 at Sacramento, 6
23 at Golden State, 10:30
25 Indiana, 7
27 Charlotte, 7
29 Houston, 6
APRIL
1 Philadelphia, 7
3 New York, 7
4 at Memphis, 8
8 at Philadelphia, 7
10 at Brooklyn, 7:30
12 Atlanta, 6
14 at Indiana, 8
15 at Cleveland, 8
All times PM Eastern