In 1900, legend has it Butch Cassidy was part of the small gang that knocked off the First National Bank of Winnemucca, stealing $32,000. More than a century later, the small Nevada town was the site of an even bigger heist — but this time the guy who took the loot had a uniform and a badge.
The victim that September day in 2013 wasn't a bank. It was Tan Nguyen, a California man traveling on Interstate 80 near Winnemucca, about 165 miles northeast of Reno. He was pulled over by a Humboldt County sheriff's deputy for doing 78 mph in a 75 zone. The deputy thought Mr. Nguyen "looked nervous" and insisted on searching the vehicle, eventually finding a briefcase that contained $50,000 in cash.
So he took it.
Mr. Nguyen was never charged with any crime. Nothing illegal was found in the vehicle. Mr. Nguyen didn't even receive a speeding ticket. Instead, the deputy confiscated the money and told the motorist that if he protested, his car would also be impounded and he "could walk," said John Ohlson, the Reno lawyer who later represented Mr. Nguyen.
The following day, the sheriff's office issued a news release trumpeting the windfall, crowing that the $50,000 "would benefit Humboldt County with training and equipment."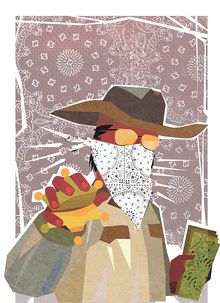 Astonishingly, such incidents aren't unique. Under the guise of "drug interdiction," police agencies across the country use civil-forfeiture laws to seize hundreds of millions of dollars in cash, cars, homes and other valuables from people — many of them minorities — who are never formally charged with wrongdoing.
Such laws are controversial because they allow police to take property if they merely suspect it has some connection to criminal activity, leaving the owner who chooses to fight with the difficult, expensive and time-consuming process of proving otherwise. They also encourage abuse by allowing law-enforcement agencies to keep a large portion of the proceeds from the assets they grab in the shakedowns. This provides police with an obvious incentive to skew their enforcement priorities toward generating forfeiture revenue, which can make up a significant portion of smaller agencies' budgets, even covering salaries in some jurisdictions.
Civil forfeiture differs from criminal forfeiture in that an individual need not be found guilty or even charged to lose his personal property. One judge declared that civil forfeiture is nothing more than "state-sanctioned theft."
Consider these cases:
In 2009, the federal government moved to seize the Motel Caswell in Tewksbury, Mass., arguing that a tiny percentage of guests over a 15-year period had committed drug crimes at the property. Russ Caswell, the hotel owner, whose father had built the property in the 1950s, was never charged with a crime. He had no warning that federal officials planned to take his business — and no opportunity to address the purported issues. It was revealed during legal proceedings that the Drug Enforcement Administration targeted the inn after an agent checked property records to determine its value ($1.5 million). Mr. Caswell refused settlement offers and eventually prevailed in court, but the battle took its toll. "It was something you'd expect to happen in some Third World country, not America," Mr. Caswell said.
In August 2012, the American Civil Liberties Union (ACLU) settled a class-action lawsuit against officials in Tenaha, Texas, and Shelby County — near the Louisiana border — over the practice of local police lifting cash and other valuables during traffic stops. The drivers were overwhelmingly black or Hispanic. From 2006 through 2008, the ACLU noted, law-enforcement officers confiscated about $3 million from at least 140 people, none of whom was ever arrested or charged with a crime.
Last year, without warning, the Internal Revenue Service used the forfeiture laws to empty $35,000 from the grocery story bank account of Terry Dehko, owner of Schott's Supermarket in suburban Detroit. Mr. Dehko, an Iraqi immigrant who has run the business with his daughter for three decades, was not charged with a crime. Instead, the IRS assumed that because Mr. Dehko frequently deposited store revenues in increments below $10,000, he was "structuring" transactions in a nefarious effort to avoid federal reporting laws on cash dealings. Mr. Dehko was given no notice or opportunity to explain his actions before the IRS helped itself to his bank account. Had anyone asked, he would have explained that his insurance only covered cash holdings of up to $10,000. After a costly, almost yearlong legal fight, Mr. Dehko's money was returned.
As a matter of political reality, civil forfeiture won't be abolished any time soon. At the very least, though, Congress and state lawmakers should implement major reform. Sen. Rand Paul, Kentucky Republican, and Rep. Tim Walberg, Michigan Republican, recently introduced legislation to do just that. Removing the financial incentives for police that invite abuse would help, as would greater accountability and transparency when it comes to reporting asset seizures. Finally, shifting the burden of proof to the government in these cases would more adequately shield innocent property owners.
As for Mr. Nguyen's experience in Winnemucca, he eventually got his $50,000 back plus attorney's fees after he and other motorists with similar stories filed suit. Following a settlement, lawyers for the county insisted the seizures were lawful, but conceded concerns about "procedural issues." Such double-talk can't conceal what actually took place out there among the sagebrush on Interstate 80 in rural Nevada: highway robbery. "What else do you call it," said Mr. Ohlson, Mr. Nguyen's attorney, "when a guy stops you and takes your money?"
John Kerr is a communications fellow with the Institute for Justice and a former editorial-page editor of the Las Vegas Review-Journal.