Two young girls and their parents were held back by a drooping yellow rope at Redskins training camp in Richmond.
After a rapid triple air-horn blast signaled the end of practice, the little girls contributed their high-pitched wailing to thousands of other shouts.
"RG3! RG3! RG3!"
---
SEE ALSO: Washington Redskins vs. Cleveland Browns: 5 Questions
---
Their chanting took a turn when Robert Griffin III moved toward another group and wide receiver Nick Williams began walking in their direction.
"No. 13! No. 13!"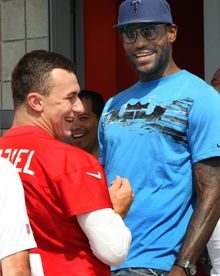 They had no idea who Williams was. Which, in all, encapsulates the pressure, demand and expectation heaped on Griffin. It's him and everybody else.
---
SEE ALSO: McCoy prepares to face his former team, and an uncertain future with the Redskins
---
The backup quarterback for the Redskins' opponent on Monday night, the Cleveland Browns, is under the same soul-withering spotlight. Even normal functions for Johnny Manziel are deemed television-scroll-worthy, a reality reflective of the currently overzealous sports market.
"The chaos, the talk, the hype, the overreaction, the over-analysis has been from the day I won the Heisman to that spring, to that fall, to the draft, to now," Manziel said at a recent news conference. "If you look at it, [scrutiny's] been a constant in my life. It's been the one thing that's been the most constant in my life."
Manziel also amplifies the noise in an era when most famous athletes try to counter it with mundane quotes and cloaked personal lives. The haphazardness of his on-field decision-making is only rivaled by his erratic off-field actions.
His nightlife is a mix of Rat Pack and gangster rapper. Photos of Nighttime Johnny — using stacks of cash as an ill-functioning telephone, gambling, appearing to have eyelids that dropped anchor — have made NFL executives and others wonder if he can curtail his Namathesque approach to being a pro football player. Some wonder if he needs to.
As Manziel works that out, the scrutiny will increase. The first round of the NFL draft was spent wondering where he would be selected. Once he was picked 22nd overall by the near-dormant Browns — they have been to the playoffs once since 1994, and lost that game — the question was if Manziel would start over serviceable Brian Hoyer. He will not Monday.
Manziel's circumstance is familiar in D.C.: former Heisman Trophy winning quarterback from the Lone Star State tabbed to rescue franchise. Every move is severely weighed and dissected.
"I was having this, not a conversation about Johnny, but a conversation about fame with one of my teammates, Gabe Miller," Griffin said. "We're walking out on the field in Richmond and he was asking me, 'You know, they're chanting, "RG3! RG3!" Do you ever get tired of that or do you love that?'
"I said, 'You never want to get to the point where you love fame or you hate fame. But, you have to understand it.' I understand what Johnny's going through. I understand what I've had to go through thus far in my career. And, why it's happened that way: You win the Heisman and things get a little crazy. You go to turn around a franchise and things get a little crazy."
When managed properly, there is leverage to be had for the athlete tumbling about in the hype machine. During camp, Griffin visited the media work room to show off the signatures on his cleats from two cancer survivors who were at practice. The next day, he spent time with an 18-year-old whose "wish" to meet Griffin was granted through the Make-A-Wish Foundation. Both endeavors received coverage.