ANALYSIS/OPINION:
Just think — if Dallas Cowboys owner Jerry Jones had his way, Johnny Football would be giving Washington Redskins fans the finger at least once every season.
Deadspin is reporting that an excerpt from the Jim Dent book, "Manziel Mania," Jones actually had to be physically stopped by his son Stephen from drafting Manziel when the Cowboys came up at No. 16 in the first round.
---
SEE ALSO: Amid struggles, Johnny Manziel makes obscene gesture in loss to the Redskins
---
"Cowboys vice president Stephen Jones had snatched the Manziel card straight out of his dad's hands," Dent wrote. "Otherwise, Jerry would have drafted him and JFF would have sat for at least three years behind Tony Romo."
I'm not sure about the latter part of that. Jerry wouldn't have drafted Johnny Football to let him sit, not when he and Redskins owner Daniel Snyder could have had their own "Nickname Bowl" — Johnny Football vs. SuperBob — twice a year, filling the void of their Super Bowl fantasies.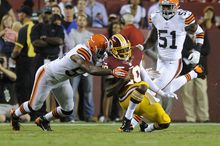 Twice a year, at least, as long as Robert "SuperBob" Griffin III survived.
---
SEE ALSO: Redskins notebook: Griffin still trying to master art of sliding
---
As it is, the two Heisman Trophy winners reside in different conferences. Maybe the NFC East would have just been too big for both.
The first "Nickname Bowl" Monday night at FedEx Field between the Washington Redskins and Cleveland Browns was disappointing, save for Johnny Football's one-fingered salute to the Redskins bench, which, according to reports, had been verbally offending his sensibilities.
Browns cornerback Joe Haden — who hails from Prince George's County — told reporters after the game that abuse Johnny Football was taking was some of the "worst things you could ever imagine, from everybody, their players, their fans."
Seriously? What did he face when he played for Texas A&M — choir boys?
"With me, since my name has grown bigger and people have known who I am, it just continues to go as the games continue to go on," Johnny Football told reporters after the game. "I don't know if there is a single level of severity each game, but I know it's there and it's present every game. I just need to let it slide off my back and go to the next play. I feel like I did a good job of holding my composure throughout the night and you have a lapse of judgment and slip up.
"There's always words exchanged on the football field," he said. "I had words exchanged with me throughout the entirety of the game, every game, week after week. I should have been smarter."
That is the burden of new Browns coach Mike Pettine — to make the nickname smarter and turn him into an NFL quarterback.
"We talk about being poised, being focused," Pettine said. "You have to be able to maintain your poise. It's a big part of all football players, especially the quarterback. We have to keep our composure and that is something we will obviously address."
New Redskins coach Jay Gruden has his own issues trying turn the nickname into an NFL quarterback — survival.