ANALYSIS/OPINION:
The Jackie Robinson West All-Stars and the Taney Dragons' Mo'ne Davis have returned home and are preparing for another school year.
Now it's back to real life.
---
SEE ALSO: Even in loss, Chicago celebrates Little Leaguers
---
No more close-ups on national TV. No more cover shots for national magazines. No more interviews from hordes of journalists. The Little League World Series is over and the tournament's most-talked about sensations can recede from the limelight and resume their lives as ordinary schoolchildren.
Meanwhile, the rest of us return to stark realities that are unchanged and likely to remain static, despite the thrilling exploits that enthralled much of the nation.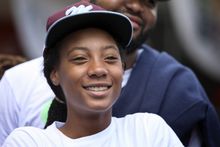 Girls all over the country gained a new hero in Mo'ne, the flame-throwing 13-year-old who is the youngest athlete ever featured on Sports Illustrated's cover. But she wouldn't have become an overnight sensation and helped ESPN capture record ratings if she was mowing down females instead of males. The pecking order is still in place.
Chicago, home of the all-black JRW All-Stars, is still fraught with danger for those African-American boys, who likely know victims of the city's rampant gun violence. Even if the players make it out, the threat of racial profiling and over-aggressive policing is a concern that poses another type of health risk.
Major League Baseball is still losing the fight to draw more Jackie Robinsons, Hank Aarons and Ken Griffeys to the sport. Only 8.3 percent of players on Opening Day rosters this season were African-American; according to research by Mark Armour of the Society of American Baseball Research, that number reached an all-time high of 19 percent in 1986.
Maybe you want to argue that JRW and Mo'ne at least are steps in the right direction.
In winning the U.S. championship before falling to international champ South Korea, JRW resembled a flashback to pre-integration days. The team showed what's possible for youngsters who embrace the game at an early age.
Likewise, Mo'ne stretched the limits of our imagination regarding the fairer sex, as she became the first female to pitch a shutout in the LLWS. In her final outing, a loss against offensive juggernaut Nevada, she struck out six batters in 2 1/3 innings. Her poise and presence was remarkable for any young player, any gender.
So plaudits for JRW and Mo'ne are well-deserved.
But they're also part of a larger problem — the overemphasis, glorification and commercialization of youth sports.
Something about putting 11- and 12-year-olds' baseball games on national TV has always bothered me. It's hard to see innocence in instant replays, multiple cameras and a full roster of talking heads. The line between's child's play and big business hasn't been blurred, it has been obliterated.
It's difficult to ask youngsters to keep sports in perspective when excesses abound. Don't get me started on major college teams that operate as de facto minor leagues, where gaining an education is secondary and optional for many top stars. And we're well past the point where high school football and basketball became a multimillion dollar industry, with some teams travelling like their pro counterparts and being covered in like fashion.