The chilly challenge accepted 'round the world has unleashed a tsunami of YouTube videos and millions of dollars for research of Lou Gehrig's disease.
But even as everyone from former President George W. Bush to pop singer Britney Spears issues their own ALS ice bucket challenge, the question on many minds is: What happens after the ice melts and attention is focused on the next viral cause?
"This has taken on a whole new life of its own," said Gene Tempel, founding dean of the Indiana University Lilly Family School of Philanthropy. "This is probably the single largest event using social media to raise money. It is just unbelievable, and of course, the [ALS Association] is trying to figure out how to respond to that."
---
SEE ALSO: NRA's Wayne LaPierre accepts Gabby Giffords' ice bucket challenge
---
---
PHOTOS: Photo show: Watch ice bucket VIPs change the nature of charity fund-raising
---
In the past month, the ALS Association has collected $88.5 million, thanks in large part to the nearly 2 million new donors who chose to support the organization after being challenged to either dump a bucket of ice water over their head, or donate cash to the cause.
This time last year the association brought in $2.6 million.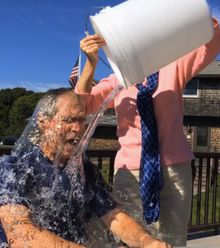 "We're already talking about it," ALS Association spokeswoman Carrie Munk said. "It's kind of an interesting situation. We're not sure any other charity has seen this type of influx of monetary support that's not related to a disaster or an emergency."
Last week, donations had topped out at about $23 million. Now the organization is raking in funding at an average of $9 million per day.
The challenge is simple: A person has 24 hours to choose whether to donate money to the ALS Association or pour a bucket of ice water over his or her head. They then issue the same challenge to three other people.
Families, friends, coworkers and teammates have posted videos of the bucket pours. Politicians and talk-show hosts have accepted the challenge, and even Hollywood stars have sacrificed their good hair for the good cause.
The ease with which it's possible to participate, said Eileen Heisman, CEO of the National Philanthropic Trust, is what lends the challenge to being viral.
"It virtually takes no preparation, no financial commitment, you don't even have to do it," she said. "All you have to do is go into your back yard. There's no previous commitment. All you have to have is a bucket with ice in it. You don't have to get commitments from anybody."
With no barriers to entry, plus the humor that comes from watching someone get doused with frigid water, the challenge is easy for anyone to participate in.
"In the world we live in, [charitable donations] are highly valued," Ms. Heisman said. "Giving to charity is something we really treasure in our society."
Unfortunately, society also tends to have a short attention span, which presents the problem of not only bringing in donors but keeping them interested, she said.
"This is such a difficult thing to replicate over time," Ms. Heisman said. "Even though this has been remarkably appealing and a wonderful activity for the ALS Association to raise money, how replicable is it for them or anybody?"