RICHMOND — Prosecutors completed their questioning of Bob McDonnell on Tuesday, establishing during cross examination what has turned out to be a largely circumstantial case against the former Virginia governor accused of public corruption.
But after stating since the indictment was first handed up in January that he was looking forward to telling his side of the story, Mr. McDonnell also appeared to fall short of resolving key questions about his relationship with a wealthy businessman who plied his family with gifts and loans.
The defense's case appeared headed toward a close Wednesday, after the former governor was cross examined for two days by prosecutor Michael Dry. Mr. McDonnell's temperament during at-times contentious questioning ranged from reserved to emphatic, and he was unwavering for much of Tuesday when he denied repeatedly any effort to conceal the nature of his relationship with Jonnie R. Williams Sr.
Mr. McDonnell and his wife, Maureen, are accused of conspiring to promote the business interests of Mr. Williams, the former CEO of Star Scientific Inc., in exchange for more than $170,000 worth of gifts and loans.
But if the prosecution was saving a "smoking gun" correspondence definitively proving a quid pro quo between Mr. McDonnell and Mr. Williams for the cross examination, it was unclear what exactly it was.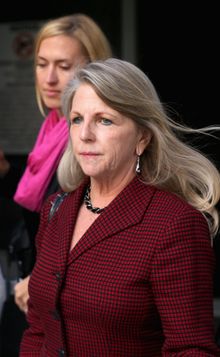 Mr. Dry questioned Mr. McDonnell about notes he exchanged with Mr. Williams that appeared to coincide with related acts as governor.
Mr. McDonnell dashed off a late-night email telling William A. Hazel Jr., his secretary of health and human resources, to set up a meeting with Mr. Williams the night he came home from a 2011 vacation on the businessman's tab.
He also whipped out a bottle of Mr. Williams' product, Anatabloc, in a meeting about how to lower health care costs for the state workforce days after a $50,000 check for his real estate company arrived from Mr. Williams in March 2012.
But Mr. McDonnell, choosing his words carefully in many instances, managed to deflect much of Mr. Dry's questioning. And he denied outright that Mr. Williams had ever asked him for anything or he had given him special treatment.
Mr. Williams, in his own testimony under immunity earlier in the trial, said he was after the prestige of the governor's office to support his product, Anatabloc.
Prosecutors have implied he got what he was looking for — or at least treatment the governor wouldn't afford to just anyone — in an executive mansion lunch for Anatabloc's rollout in August 2011 and a picture of a smiling Mr. McDonnell holding a bottle of Anatabloc at a different event, for example.
"Every donor wants something," Mr. McDonnell said Tuesday, adding that Mr. Williams never told him about something specifically that he wanted.
For his part, Mr. McDonnell admitted Tuesday to taking the more than $170,000 in gifts and loans. He said he regretted taking that much, or allowing members of his family to accept the ones he didn't know about.
He only learned after the fact, for example, that his wife had negotiated an initial $50,000 loan from Mr. Williams in 2011.
"I'm responsible for my family," he said, noting that he "allowed my life to get out of balance so that my judgement wasn't as good as it should have been."