America's newest federal agency, charged with regulating financial institutions to prevent another hostile economic downturn, is having troubles regulating hostilities and discrimination among its own employees.
Evidence gathered by congressional investigators, internal agency documents and Washington Times interviews with workers discloses scores of cases of U.S. Consumer Financial Protection Bureau employees seeking protection from racially offensive, sexist or discriminatory behavior, including that:
• A naturalized U.S. citizen, with more than a decade of service with the U.S. government, was called an "f'ing foreigner" by management.
---
SEE ALSO: Porn-surfing feds blame boredom, lack of work for misbehavior
---
• A department was internally dubbed "the Plantation" because of the number of blacks working in it — all supervised by white managers — without any obvious promotional track or way to get transferred.
• White employees were twice as likely to get the most favorable personnel ratings in employee reviews, as were minorities.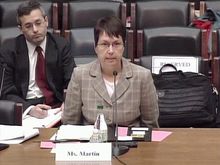 • Managers intimidated and retaliated against employees for voicing complaints or offering an alternative point of view — from denying vacation requests to hiring unqualified friends to supervise jobs and then asking subordinates to train them.
Evidence of discriminatory pay practices in the agency's own statistics have even resulted in promises by management of emergency pay raises for minority workers to create more parity, the documents show.
It's not the storyline that America's newest federal agency wanted at its inception.
CFPB, the brainchild of Democratic Sen. Elizabeth Warren of Massachusetts, was created by then-Sen. Christopher J. Dodd of Connecticut and then-Rep. Barney Frank of Massachusetts.
The latter two Democrats pushed through legislation in Congress named after them that created the agency to protect consumers from predatory banks and lending institutions blamed for the 2007-2009 financial crisis. And Ms. Warren, now considered by some as a potential presidential candidate in 2016, became its first leader.
Since then, the agency has been a political football, roundly opposed by Republicans as an excessive regulatory power play and embraced by liberals who saw it as a necessary fix to a financial system gone awry.
Manager fiefdoms
Away from the political fray on Capitol Hill, dozens of workers at the CFPB say the bureau's lack of accountability is enabling managers to create their own minifiefdoms, stock the ranks with inexperienced and unqualified friends and retaliate against anybody who disagrees with their agenda.
The House Committee on Financial Services began airing some of the problems at hearings earlier this spring, bringing to light a situation that has simmered for months out of public view.
CFPB acknowledges its employees' complaints about a hostile working environment and says it is working with the National Treasury Employees Union — which represents CFPB employees — to settle worker protests and iron out new performance reviews, which are at the heart of many of the protests.