RICHMOND – As a running back, Alfred Morris can only do so much when he's practicing in a jersey and shorts. Even on the few occasions during training camp in which he's put on his pads, the level of physicality hasn't been the same.
"With my teammates, I try my best not to lower my shoulder on any of them, or I try not to hurt them, in a sense," Morris said. "I'm more likely to drop my shoulder on an opposing team than my own teammate."
Starting Monday, Morris will get his wish. After nine days of pitting their offense against their defense, the Redskins will hold the first of four of practices with New England, leading up to the preseason game against the Patriots at FedEx Field on Thursday night.
While the Redskins have not held joint practices in several years, their occurrence is nothing new. Buffalo and Pittsburgh will hold a series of practices together next month, and the Redskins used to occasionally practice against the Steelers when they held their training camp at Dickinson College in Carlisle, Pa. and at Frostburg State University in Frostburg, Maryland, in the 1990s.
The Patriots will also hold three days of practices against Philadelphia next week, marking the second consecutive training camp in which they will do so. They also held training camp sessions with Tampa Bay and New Orleans in 2013.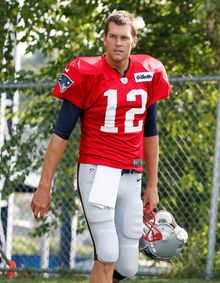 "We've seen our guys go against our guys a lot, and now we'll get to see them go against somebody else," Patriots coach Bill Belichick told reporters on Friday. "I think we're all looking forward to it. I think it will be a helpful evaluation for our team."
As the offensive coordinator in Cincinnati last season, Redskins coach Jay Gruden held two days of joint practices with Atlanta leading up to the teams' preseason game.
He initially worried that the sessions would be hurt his team in the long run because film of their schemes would be available. Over time, he realized that the Bengals were doing nothing in practice that they wouldn't do in preseason games and the opportunity to face a team unfamiliar with their schemes provided a more accurate evaluation of players' abilities.
"I think as long as we're aware of what we're doing," Gruden said. "When we line up in a certain formation, there's a lot of different things we can do. It's just a matter of us coming out and doing what we do well and playing at a high level and letting the guys perform. We'll figure out the Xs and Os. We'll figure out our tendencies, we'll make sure we're not doing the same thing over and over again — that we give a defense a leg up on us, or offense a leg up if we're on defense. It's very important for us, as coaches, to study that and make sure we're policing that, but I don't think it's an issue whatsoever."
The teams will hold a practice and a walkthrough on Monday, a practice on Tuesday and a practice on Wednesday. Players will be in full pads the first two days, but not on Wednesday, when extra attention will be placed upon special situations — the two-minute drill and no-huddle offense, for example.
There will be live scrimmage periods, but even those will be scripted. As opposed to the preseason game, when there's no guarantee the second-team offense will experience a goal-to-go situation, coaches can regulate what they want to see.
Patriots quarterback Tom Brady compared the joint practices to a second game against a division opponent, when that team is intimately familiar with one's schemes and tendencies.
"Ultimately you've got to go out and the fundamentals of the game kick in," Brady told reporters on Friday. "You've got to make the plays, you've got to make the reads, you've got to do the fundamentals of the game that allow you to win the game. Block, tackle — all those things are really important. That's kind of the fundamentals of the camp. You can't scheme every play against our particular defense. We're just trying to install the things that we do. There are some plays that we run that we'd probably never run if we knew a team was going to play this style of defense that they're playing, but it's still good work."
Entering his third season, Redskins quarterback Robert Griffin III hasn't had the opportunity to practice against another team. Though he'd like to use time away from the field to talk to Brady, he knows that, as an opposing quarterback, Brady isn't likely to give away any secrets.
"It's going to be a game-like atmosphere out here," Griffin said. "Nobody wants to be embarrassed. Everybody has a sense of pride. They're not our friends. We're not their friends. At the end of the day, we're going to protect each other, because we are in the NFL. We understand that it's practice. It's not a game, so there will be no hitting, but it's going to be physical out here."