Republican Doug Ducey is locked in a dead heat with Democrat Fred DuVal in the Arizona governor's race, according to the first poll taken since last week's primary contest.
A Rasmussen Reports survey released Sunday found Mr. Ducey and Mr. DuVal tied with 40 percent of the vote each. Another 8 percent supported another candidate, while 13 percent were undecided.
Not surprisingly, Rasmussen has ranked the Arizona gubernatorial race as a "toss-up."
The survey of 850 likely Arizona voters was taken Aug. 27-28, immediately after the Aug. 26 primary, in which Mr. Ducey emerged as the winner in a crowded field of GOP gubernatorial contenders with 37 percent of the vote.
By contrast, Mr. DuVal, the former chair of the Arizona Board of Regents, ran unopposed in the Democratic primary.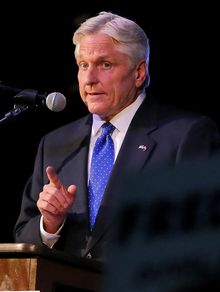 The candidates are vying to succeed term-limited Republican Gov. Jan Brewer, who endorsed another GOP candidate in the six-way primary.
At the same time, the poll shows that Arizona voters don't have a high opinion of either gubernatorial candidate at this stage of the race.
Mr. Ducey, the state treasurer and former CEO of Cold Stone Creamery, was viewed "very favorably" by 19 percent, while 20 percent viewed him "very unfavorably." Mr. DuVal was viewed "very favorably" by 13 percent and "very unfavorably" by 10 percent.
"At this point in an election cycle, Rasmussen Reports considers the number of people with a strong opinion more significant than the total favorable/unfavorable numbers," said the Rasmussen analysis.
The hotly contested Republican primary did help Mr. Ducey's name recognition. Only 7 percent of those polled had never heard of Mr. Ducey, while 19 percent said the same of Mr. DuVal.
"There will be a lot of polls between now and Election Day, and we are confident Doug Ducey's message of greater opportunity for all Arizonans will resonate with voters in the state," said Ducey campaign spokeswoman Melissa Mazzella DeLaney.