ANALYSIS/OPINION:
Shooter Jennings is quiet for a beat or two before he answers a question about fan reaction to his music.
Everyone knows that the son of Waylon Jennings has not followed the country trail blazed by his legendary dad. What most don't know is that Waylon would likely applaud Shooter's musical independence.
"There is a very large contingent of Waylon fans who say I shouldn't be doing this. That my father would hate my music," says Mr. Jennings, 35, noting that his father was very receptive to the industrial rock music of Nine Inch Nails and other bands he enjoys.
"It's funny what people will say," he says, citing his mother, Jessi Colter, and public reception of her 2006 album "Out of the Ashes." "She hadn't even put out one song yet and the first comment about it on Waylon's Facebook page was 'She doesn't sing as good as she did with Waylon.' They hadn't even heard the songs yet! And she was in top form!"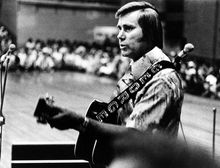 Suffice to say Mr. Jennings doesn't expect a flood of kudos Tuesday when he releases his five-song tribute to longtime family friend George Jones, "Don't Wait Up (for George)," on his label BCR Los Angeles/Thirty Tigers. And that's fine with him.
The tribute began in what Mr. Jennings' characterizes as a "weird way" in 2012 when a producer requested he contribute tracks for an album Jones would record.
Although Mr. Jennings wrote and submitted two tracks, he later discovered the producer was not a representative of Jones, who died April 26, 2013, at age 81.
Mr. Jennings put the songs aside and only rediscovered them while searching for material for another project.
"I listened to them and thought they weren't too bad," he says.
The singer-songwriter (whose full name is Waylon Albright Jennings) took the advice of his manager and others, and expanded the tribute by adding covers of three of Jones' tunes.
"I tried to do the songs in the traditional style, but it didn't work. It was boring. I don't have the voice George did. So the way we recorded them is the way that worked best."
And that way is truly a treat, especially on the title track, which finds Mr. Jennings vocally swaggering over just the right amount of "outlaw" instrumentation, including fiddle and steel guitar.
When he added rock, outlaw and even electronic elements to the songs, he was relying on advice his father gave him as a young man when he and his band recorded a cover of the Cream classic "White Room."
"He said, 'You should do something different than the original. If you do the song like the original, it will never be as good as Cream's version,'" Mr. Jennings recalls. "He said it would always be compared to the [original] and wouldn't get close unless I injected my own sound into it."