Bill Hamid was getting his ankle wrapped before training last month when D.C. United coach Ben Olsen broke the news: the goalkeeper was headed to his first All-Star game.
The 23-year-old swelled with pride. Then things got awkward.
"He gave me a high five, said congratulations and I got a little emotional," Hamid said. "[The trainer] kept asking me, 'What's going on, bro?' I was like, 'Nothing man, nothing.' I think he thought I was having a baby or something."
Hamid will join United center back Bobby Boswell and right back Sean Franklin on the MLS All-Star squad that will face German champion Bayern Munich on Wednesday in Portland, Oregon.
The trio will carry the banner for an 11-6-4 United squad that went from the league's worst record in 2013 to the third-best mark this season, and a defense that is conceding just one goal per game.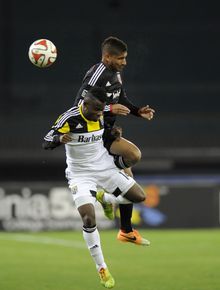 "For me, I wish everyone could be a part of it," said Boswell, United's captain. "I don't know how they really decide the whole process, but there are guys that have played a lot of games this year and done a lot of great things to make our jobs a lot easier. Some of us get recognized, but really it's everyone that should be celebrated."
All three players were selected by All-Star coach Caleb Porter of the host Portland Timbers — Hamid as a reserve on the initial 23-man roster, then Boswell and Franklin as injury replacements.
While Hamid will be making his All-Star debut, his veteran teammates will both be taking part in the midseason spectacle for the second time.
Boswell, 31, last appeared in 2006 during his first stint with United, playing 90 minutes in the All-Stars' 1-0 win over Chelsea. Franklin, 29, started a 4-0 loss to Manchester United in 2011.
"Not being in the All-Star Game the last couple of years, it just makes you as a player want to get better," Franklin said. "I've been trying to do that over the years, and I was lucky to get picked by the coach. I guess it just shows I'm doing something right on the soccer field."
The honor is further vindication for United's front office, which selected Boswell and Franklin in December's re-entry draft after their contract options were declined elsewhere.
Franklin had spent his entire six-year career with the L.A. Galaxy, while Boswell played the previous six seasons with the Houston Dynamo. But both players were deemed expendable as those clubs dealt with salary cap dilemmas.
"I'm just happy that D.C. took a chance on me," Boswell said. "Every day you go out and perform and show those guys that they made the right decision. As good as it is now, I still feel like I have a lot to prove. I don't look back and think, 'Oh, what was Houston thinking?'"
Although the MLS squad certainly features big names, including French legend Thierry Henry and a slew of American stars from Clint Dempsey to Landon Donovan, it pales in comparison to a Bayern club valued at $1.23 billion.
Franck Ribery was the 2012-13 European player of the year. Thomas Muller and Arjen Robben finished second and third, respectively, in voting as the World Cup's top player. Manuel Neuer was named the goalkeeper of the tournament. Philipp Lahm captained Germany to the title, and Mario Gotze scored the winning goal in the final.