A year ago, Robert Griffin III was left standing on the sidelines, dressed in his full uniform — pads and all — but not permitted to play.
Things were considerably different Thursday for Griffin in the Redskins' preseason opener against New England, but not by much. Griffin played only 10 snaps in the 23-6 victory, leaving the game with 12:48 remaining in the first quarter having attempted only four passes.
The Redskins eventually rolled to a 23-6 win, with the face of the franchise spending the bulk of it on the sideline.
---
PHOTOS: Redskins-Patriots preseason opener
---
In one regard, Thursday's game marked the beginning of the next phase of Griffin's maturation — the reclamation of a quarterback scarred, physically and mentally, of the events of the last year and a half.
"It's a great feeling," Griffin said. "Any football game – when you put a helmet on, it means something. It means something to somebody somewhere, and it meant a lot to everybody in this locker room. I know it's a preseason game, but it's football, and for those 10 plays, it meant a lot to us."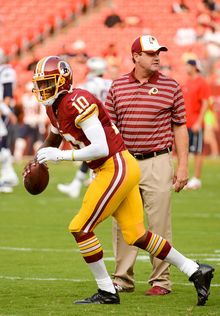 There was nothing flashy about Griffin's debut on Thursday – he completed two of those four passes for nine yards – as the Redskins deferred to their run game on the first series. Running back Alfred Morris, also out after 10 plays, carried the ball five times, while Roy Helu carried it once.
---
SEE ALSO: Seastrunk, Redd use opposite styles in pursuit of same goal
---
New coach Jay Gruden has, to this point, been direct — if not honest — about Griffin's development. A former quarterback, Gruden said the day before training camp began that he could spend 35 or 40 minutes to talk about what Griffin could work on, then pointed out that he could do the same with any other quarterback, naming the Patriots' Tom Brady as an example.
And, in the days that followed, he did. Last week, Gruden said it can be a problem if Griffin continues to sit indecisively in the pocket. On Tuesday, the coach said Griffin "has a stubbornness to him sometimes in practice" when it comes to throwing the ball away.
"Overall, I think he's coming [along]," Gruden said. "He's got a long way to go, obviously. I think the more opportunities he has to take a snap from center, drop back with people rushing him, seeing coverages, seeing routes develop, making his reads, making his progressions, making his throws with his footwork, the better he is going to be. There's no substitute for these reps."
Brady, who did not play in Thursday's game, worked at a meticulous, competitive pace during the Patriots' three days of practice in Richmond. To him, any failure was a personal affront: He'd visibly grimace after incompletions, and if players sauntered back to the line of scrimmage, he'd bark his disapproval.
Griffin has exhibited a similar competitive spirit, which has occasionally worked to his detriment. Over two seasons, he has done everything he can to extend plays, which often means scrambling in the backfield to keep the down alive.
"We want to work within the offense, and when it doesn't present itself, you work outside the offense," Griffin said. "Just play the game — play the game like it's supposed to be played. I did it in high school. I did it in college. Coaches always stress, 'Play within your offense, allow things to happen that way and be decisive when you're out there.'"
Griffin often did not have a clean pocket during the controlled scrimmages with the Patriots earlier this week — and when he did, he occasionally moved it. In past years, that meant trouble: It clouded his ability to go through his progressions, leaving him unable to go past his secondary read and often forcing him to throw the ball in the direction of wide receiver Pierre Garçon or tight end Jordan Reed.
Without a reliable secondary receiver last season, Garçon was targeted 184 times and had a team-record 113 receptions — each of which was a league-high. Reed, the Redskins' next-leading receiver, had 45 catches in only nine games because of injury.
In theory, the additions of DeSean Jackson and Andre Roberts should help balance those numbers. Even the Redskins' running backs will be tasked with catching passes out of the backfield — which is something Griffin will need to get used to.